It's fair to say that scuba diving is not the cheapest pastime to get involved in. All the scuba gear involved, plus booking diving excursions amount to a serious investment.
Understandably, if you are only just trying scuba diving out and not yet very serious about it, like many people, in the beginning, you probably feel it is best to just hire out most of the equipment.
However, if diving is something you are passionate about, then buying your own diving gear is the most cost-effective way to kit yourself out for those dives. After investing in the perfect dive mask, and scuba fins you'll want to start looking at the bigger ticket items. One of the best ways to get everything you want is by investing in one of these scuba gear packages.
Don't have time to read our full review? No worries! Here are our 3 most popular Scuba Diving gear packages;
OUR #1 PICK
Aqua Lung Pro HD BCD Scuba Dive Gear Package
Aqualung Pro HD BCD
Titan Scuba Regulator
Aqualung ABS Octopus
Aqualung i300 Computer
Balanced Diaphragm system
Check Amazon →
Read our review
PROFESSIONAL
Mares Quantum BCD Scuba Diving Gear Package
Mares Quantum BCD
SLS Weight System
Abyss 22 Regulator Yoke
Mares Abyss Octopus
Mares Puck Pro Plus Computer
Check Amazon →
Read our review
ENTRY LEVEL
Cressi R1 BCD Scuba Diving Gear Package
Cressi R1 Leonardo BCD
Gear Up Regulator Bag
AC2 Compact Regulator
Compact Octopus & Hose
Leonardo Air/Nitrox Computer Console
Check Amazon →
Read our review
Designed to be an 'all-in-one' solution, these scuba gear packages include all the basics you need for the best and safest diving experience possible.
It's important to note that these scuba packages have what many people would consider being high upfront costs. If you can afford the price tag, you'll save money in the long run as most of the individual items in a package are more expensive to purchase separately.
10 Best Scuba Gear Packages
As you'd imagine, or know if you've already had a look, there are quite a lot of different scuba diving equipment packages available. It may be a little bewildering and intimidating, trying to choose between them.
Don't worry though, because that's where we come in. We have put together a guide to the 10 best scuba diving gear packages, that we're sure will help you find the right one for you.
Let's dive into them.
Our Review Score
Package Features:
Cressi R1 Leonardo BCD (Weight Integrated)
Cressi AC2 Compact Regulator
Cressi Compact Octopus and Hose
Cressi Leonardo Air/Nitrox Computer Console
Gear Up Guide Regulator Bag
First on our list of the best scuba gear packages is the very cost-effective Cressi R1 Leonardo scuba gear package, that comes with a BCD that makes use of integrated weight pockets that can be moved easily. This means you don't have to just use a weight belt to carry them but can carry them on you instead.
It has been constructed from high-quality materials, especially in the backpack, which is nice and rigid but has comfortable padding that helps make it easier to use for longer periods of time.
The regulator set that comes included with these scuba gear packages pack includes the Cressi AC2 first stage regulator and the Cressi Compact second stage regulator. Although the included dive computer seems a bit on the plain and simple side, it is incredibly easy to use and controlled by just one button.
Read Recent Customer Reviews on Amazon.com →
Our Review Score
Package features:
Cressi Travelight BCD MC9
Compact Regulator Set
Octo Leonardo C2 Console
Akona Roller Suitcase (Less Than 7lbs)
Kraken Dive Torch
The next from Cressi on our list of scuba gear packages is the Travelight pack which has been designed to be as ultra-portable as possible and would suit more intermediate to expert divers, than the one above. Everything included in this pack fits perfectly well into the accompanying carry case and it only weighs 15lbs.
These scuba packages feature the Cressi Travelight BCD with a generously padded-out backpack that makes for a comfortable and soft fit and uses the Lock Aid mechanism also featured in the above model, the weight integrated system is found on the side pouch and is able to carry 20lbs of weight, but the back pockets also give you room for a further 10lbs if necessary.
One of the notable features is the inflation characteristics of the BCD as it inflates the bladder moves away from the body, thus avoiding the problem of constriction. The pack's regulators are the Cressi MC5 first stage and the Cressi Compact Second Stage Regulators. The dive computer included is the Leonardo C2 Console Dive computer that is compatible with both nitrox and air.
The Akona Adventure Gear Roller suitcase comes with this pack.
Read Recent Customer Reviews on Amazon.com →
Our Review Score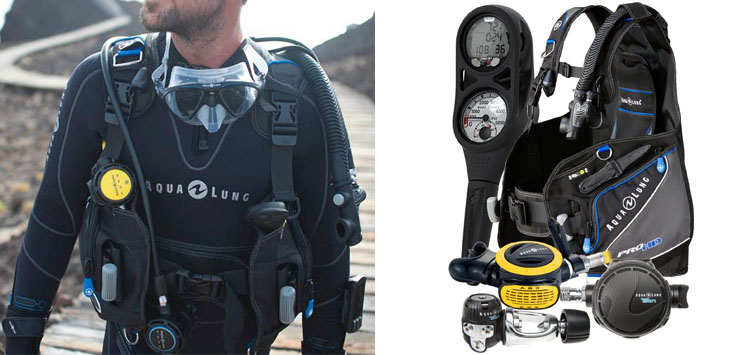 Package features:
Aqualung Pro HD BCD
Aqualung Titan and Balanced Diaphragm system
Aqualung ABS Octopus
Aqualung i300 Computer
With this Aqualung BCD pack, you get a jacket-style BCD with a wrap-around bladder that fits around the back and under the arms to give you fuller buoyancy and better control, with easy to access deflator and inflator buttons.
These scuba gear packages also benefit from a weight integration system and the regulator that comes with the pack is easy to hold and comfortable in the mouth.
The stunning part of this affordable scuba kit is the high-quality i300 computer. Designed to work with nitrox and air, this has enough technical features to satisfy more accomplished and advanced divers but is simple enough to use for rank amateurs.
Read Recent Customer Reviews on Amazon.com →
Our Review Score
Package features:
Mares Prime SMU BCD and MRS Plus Weight Pockets
Mares Abyss 22 Navy II regulator
Mares Abyss Octopus and hose
Mares Puck Pro Plus Wrist Dive Computer
Seac Mini SPG Pressure Gauge
This scuba kit from the popular manufacturer Mares is ideal when you are looking for adaptability and a setup that can be easily modified to suit your changing needs.
The Mares Quantum BCD scuba gear packages enable you to use either the single tank or to invest in a twin-tank accessory. It comes with a special monoplate backpack embedded into it. The internal consists of a traditional-style air bladder that after it inflates, wraps gently around your body.
The front pockets use the Mares Slide and Lock integrated weight system and there are weight pockets on the back too to help with evenly distributing the weights.
The regulators in these scuba packages are the excellent Mares Abyss 22 first stage regulator and second stage regulator with octopus. Unlike many other packs, the dive computer is separate and fits on your wrist. Despite its small and slim design, it provides a generously-sized screen that is easy to read and is covered by mineral-glass and gives you manual gas switching and compatibility with Nitrox at between 21% and 99%.
Read Recent Customer Reviews on Amazon.com →
Our Review Score
Package Features:
Scubapro Equator BC (Weight Integrated)
Scubapro MK21/S560 Regulator
Scubapro C200 Octopus and hose
Scubapro Galileo Luna Dive Computer
Although very expensive, this comprehensive scuba diving gear package from Scubapro is a very good investment indeed. Thanks to its compact and lightweight design, the BCD will go wherever you go with next to no trouble at all. It benefits from six stainless-steel D-rings that mean you can conveniently attach the gear you need.
The weight pocket system helps to eliminate the bulk associated with carrying an additional weight belt. These scuba packages also always featuretwo additional pockets with zipper closure to keep all gear secure.
With a very compact regulator, these scuba gear packages from top to bottom are made with portability in mind. Scubapro are known for designing things to be user-friendly and that's exactly what you get here, with the excellent Scubapro Galileo Luna dive computer providing you with an extra-large display screen and three different modes.
Read Recent Customer Reviews on Amazon.com →
Our Review Score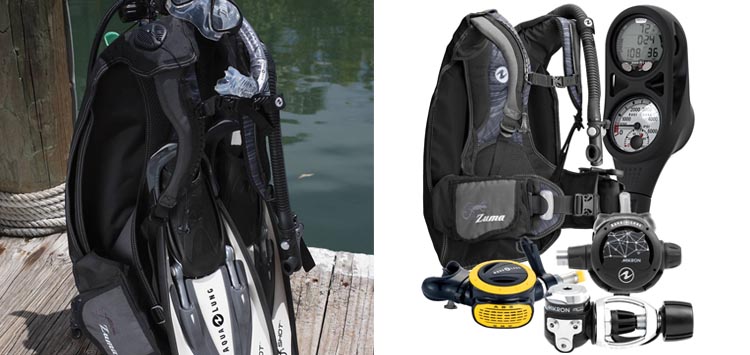 Package features:
Aqualung Zuma BCD (Weight Integrated)
Aqualung Mikron Blue Yoke-style Regulator
Aqualung ABS Octopus-style regulator
Aqualung i300 Dive Computer and gauge
Next on our list of scuba gear packages, is another great diving package from Aqualung, this one featuring the Zuma BCD with weight integration and uses the SureLock II system.
This is one of the most popular travel packs available, due to its portable and lightweight design.  It has been made from 420D fabric that is heavier and rugged but will not weigh you down.
The scuba packages Aqualung Mikron yoke-style regulator is by far the lightest and smallest in the manufacturer's collection and has been designed, like the rest of this pack with travel in mind. It features the ACD or auto-closure device and Comfo-BiteTM mouthpiece, that are of Aqualung's design and a second stage regulator that's pneumatically-balanced.
Aqualung's i300C 2-gauge is the dive computer in this scuba kit, which benefits from Bluetooth connectivity and is one of the most rugged, yet intuitive and uncomplicated of its kind. The interface is extremely easy to use and helps you to make the most of your dive without worrying about your gear.
Read Recent Customer Reviews on Amazon.com →
Our Review Score
Package features:
Mares Quantum BCD and SLS Weight System
Mares Abyss 22 Regulator Yoke
Mares Abyss Octopus
Mares Puck Pro Plus Computer
Back with Mares for our next scuba gear packages and this one comes complete with the Mares Quantum BCD which has a traditional bladder design that extends out from the back and wraps around your sides for more comfort and better maneuverability.
Like the other Mares scuba packages, this one also comes with the Mares Abyss 22 regulator that is perfect for use in all water temperatures, has a Vortex-assisted design, dynamic-flow control and is compatible with Nitrox up to 40%. Along with it is the Mares Abyss octopus that has a chrome-plated brass and nickel design, also is Vortex-assisted and features the easy-to-use downstream valve and hypoallergenic, soft mouthpiece.
The package also comes with the Mares Puck Pro Plus Dive Computer that attaches comfortably to your wrist and has a generously-large screen and protective mineral-glass display. It is compatible with nitrox between 21%.
Read Recent Customer Reviews on Amazon.com →
Our Review Score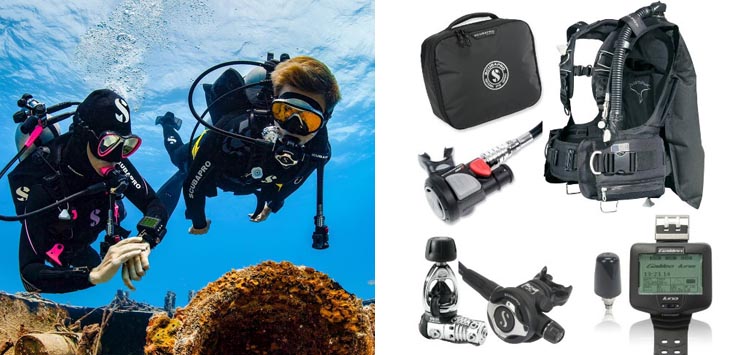 Package features:
Scubapro KnightHawk BC
Scubapro MK25/S600 Regulator
Scubapro Air II Balanced
Scubapro Galileo Luna Dive Computer and Transmitter
The Scubapro KnightHawk scuba gear packages are one scuba kit that screams quality throughout its many excellent components and features.
Its BCD has padding and comfortable strap system and is constructed from the highly durable 1000D nylon and features a bladder that inflates out from the back. There's a neck pad made from soft neoprene that keeps pressure from softer parts and makes the pack extra comfortable.
Nice additional touches to these scuba packages include the bag for the regulator, for the MK25 and S600 regulators that are compatible with both air and Nitrox and the dive computer included gives it a real edge over others.
Read Recent Customer Reviews on Amazon.com →
Our Review Score
Package features:
Cressi Aquaride Pro BCD and integrated weights/back weight pockets
Cressi MC9 Compact First and Second Stage Regulator, balanced diaphragm and Compact Octo
Cressi Leonardo C2 Dive Computer
The last of our scuba packages from Cressi in our list of the best scuba gear packages, is another great one for traveling with and features the multi-purpose Cressi Aquaride Blue Pro BCD. It is fitted with internal bladders are compacted is perfect for most tropical environmental settings and it can be adjusted to fit with lift and weight capacity.
In other words, this BCD suits diving in all seasons. The material is made from 420D nylon and features a durable trim that's perfect for day to day use.
Included with this pack are the Cressi Compact MC9 first stage and second stage regulator. This package is completed with the Cressi Leonardo C2 dive computer that has a simple, but elegant design with a single button interface for operating it.
Read Recent Customer Reviews on Amazon.com →
Our Review Score
Package features:
Oceanic JetPack and Integrated Weight System
Oceanic Alpha 8 and Oceanic SPG
Oceanic Veo 1.0 Console
The last on our list of scuba gear packages is the Oceanic travel scuba gear package is one of the most lightweight and compact ones you can invest in. It is easy-to-use and lightweight to strap on with adjustable shoulder and waist straps.
There are additional packs at either side on your waist gives you the ability to reach items you need, such as your waterproof diving camera or dive knife. Both the regulator and octopus easy and comfortable to use.
Read Recent Customer Reviews on Amazon.com →
Scuba Diving Gear Packages Summary
Scuba diving equipment packages are a great option if you are looking to get all the individual components you need to get the best out of your diving experience.
The 10 best scuba gear packages we have highlighted above are the ones we feel are the best available and we are sure you will be able to find one that is suitable for your own needs.
Although these scuba packages may amount to a large investment, you will save money in the long run and are packages to help to take your scuba diving to the next level.