Sharks are an incredibly intimidating category of fish that are feared almost as much as they are deeply respected. It's not hard to understand why, when you consider that many of the most well-known species like hammerheads, tigers and great whites are apex predators. That is, they are the top of their respective food chains.
Despite the controversy, many of us are shark advocates and love everything about them. We've brushed up on lots of facts about sharks and consider them to be one of our favorite animals. So if you've been invited to a Shark Week viewing gettogether this year or a shark lovers birthday party, we have the perfect shark themed gifts for you!
Psstttt… Don't have time to read the full post? No worries chums, here's the most popular Shark gifts for your shark loving recipient;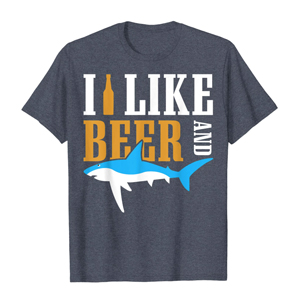 ONE FOR HIM
I Like Beer and Sharks Novelty T-Shirt
Funny Novelty Shark Gift
5 Different Styles
Great for Beer Lovers
Womens Option Too!
Check Amazon →
Read our review
ONE FOR HER
Sterling Silver Hammerhead Shark Ring
Hammerhead Design
Adjustable Ring
Solid 925 Sterling Silver
Pretty Shark Gift
Check Amazon →
Read our review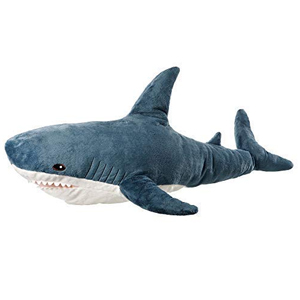 FOR THE PUP
39.4 inch Shark Giant Stuffed Animal Toy
39.4 inch Plush Shark
Great Kids Shark Gift
Cuddly Toy or Pillow
Realistic Design
Check Amazon →
Read our review
Movies like Jaws and Deep Blue Sea haven't exactly helped a sharks reputation. But, there are still many people out there that love them. Including us! If you're reading this, you're probably one of those people or you know someone who is.
Sharks are awesome predators, fast and far more intelligent than many people give them credit. So it isn't surprising that you've found yourself on a shark gift ideas page, looking for that perfect present or just some cool shark stuff!
25 Shark Gifts any Shark Lover Needs
Do you have a shark lover in your circle of friends, family or perhaps even at work? Looking to buy them some shark theme gifts they'll really love? In the following post, we've put together a list of the 25 best shark gifts for shark lovers.
We have no doubt that you'll find some great gifts for shark lovers, or perhaps even a little something for yourself! From cool shark stuff to some great sharkey pet accessories, there really is something for everyone to help show off their appreciation of Sharks with these shark themed gifts.
This is possibly the cutest of our shark gift ideas! Treat that ferocious little baby shark in your life to this cute (sorry, terrifying) shark robe set. For a great price, you get a sea-blue colored terry towel robe with a hood that features smiley sharp shark's teeth, dorsal fin, and black eyes. There's also 2 terry ties and white cuffs, with the bottom resembling the tail of a shark. Utterly adorable. Along with the ocean-inspired white bib with a grey shark and bite-shaped corer with striking white and blue strips and Velcro.
The baby shark set is completed by the booties that have felt-soft feet and shark eyes on them. Everything is made from 100% cotton, is machine washable and can be stuck in the tumble dryer using a gentle cycle. Will fit kids from 0 to 9-months making it a lovely pick of shark gifts for a new baby or mum and dad to be!
Read Recent Customer Reviews on Amazon.com →
Who hasn't ever gone underwater and then put their hands up together above the water to resemble a shark's fin to prank and scare the living daylights outta their friends? Well, these shark themed gifts are perfect to do just that!
Now you don't have to go to quite as much effort with the Fin Fun Shark Fin. This has been constructed using cutting-edge foam-like material that has produced a lightweight and buoyant shark fin. It will fit anyone from toddlers to fully-grown adults using the comfortable and adjustable shoulder straps.
Read Recent Customer Reviews on Amazon.com →
How about adding a bit of shark-based fun to your pool antics this summer or whenever you go on holiday with the XL Shark pool float from BigMouth Inc. Made from top quality UV-resistant vinyl it is 4-foot in size and capable of holding a maximum of 200-pounds. The float resembles a large shark mouth, where you sit inside it, making it appear you are being gobbled up by it.
Inflating and deflating the float are both very easy and when you're done with it for the day, week or even year, you can store it away without taking up too much room.
Read Recent Customer Reviews on Amazon.com →
Got a summer pool party to attend or want fun shark party ideas? Why not invest in this awesome shark costume? It has been designed as one size fits all but will fit anyone between 5-foot 2-inches and 6-foot 2-inches.
It comes complete with large shark head, smiling/grimacing teeth with an opening for face, large eyes and even fins you can slot your arms into. Great for smashing those shark party moves of yours!
Read Recent Customer Reviews on Amazon.com →
These bandz are great shark gift ideas for surfers! As hard as it may be to believe, these can work. Using fully-patented magnetic tech that marine biologists worked on, wearing these can help to deter the more predatorial sharks in the deep blue.
There's no batteries or charging involved, you simply slip these silicone and stainless-steel bands on and the magnetic tech disrupts the shark's electrical senses causing them to turn the other way and swim away from you. As well as being durable and secure, they have a universal fit that makes them suitable for anyone from age 5 years and up and will stay functional to depths up to 100-meters/330-feet.
Read Recent Customer Reviews on Amazon.com →
Do you enjoy sharing sushi with friends? Why not give your sushi meal nights an extra twist and serve it on these fun ceramic sushi serving platters? A great choice of shark gift ideas for a foodie! Featuring an open shark mouth ready to devour helpless fish, this can be used to hold your dipping sauce, while the tail at the other side can be used as a stand for your chopsticks.
With a light blue, underwater-inspired design on the platter, there's plenty of room to place those tasty bits of sushi. You might want to eat quickly though, in case the shark gets any ideas!
Read Recent Customer Reviews on Amazon.com →
Another way to serve up some tasty underwater treats with some shark themed gifts is by using this 20-ounce bowl that resembles the gaping wide open mouth of a hungry shark.
Ideal for Shark Week parties or just those regular times when you have some clam chowder. Made from high-quality ceramic, they are also microwave and dishwasher safe and will last a very long time.
Read Recent Customer Reviews on Amazon.com →
Fed up of using conservative and boring wine bottle holders, opening a little drink-selling shack at a beach or just looking for a talking point at your next aquatic or shark-themed party – perhaps even for shark week? Give this fun wine bottle holder some consideration for your shark gifts then.
Featuring a shark's mouth open wide and ready to get drunk, you just slot the bottle inside its greedy mouth until you need to use it. Although it's not ceramic, it is made of poly-resin so will stand a lot of use, providing an excellent return on your investment.
Read Recent Customer Reviews on Amazon.com →
Who doesn't like a cookie or three with their hot cocoa, coffee or even tea? The Shark Week cookie dunk mug not only has a diver image on the inside of the mug and a shark's head, nose, eyes and open mouth on the outside, but it even has a little handy tray-like lip where the hole for the shark's mouth would be. That little hole can be used to store your cookies when you're having that hot, refreshing drink, a great choice of shark themed gifts!
The cup is made from non-toxic, eco-friendly, lead-free ingredients that have been fired twice in a kiln. It measures 3.5 x 4.5-inches and can hold up to 12-ounces and is both microwave and dishwasher safe. Can you really resist this great mug as your choice in shark gifts? Or do you want to follow the advice on the back and 'Live Every Week Like It's Shark Week?
Read Recent Customer Reviews on Amazon.com →
Need to dress smart or have an occasion that requires a suit, shirt, and tie, or know someone that does? Why not buy this premium-quality necktie made from 1200-needle count fabric that has precise and exquisite stitching and tiny little great white sharks. It's one of the best selling shark gifts for him!
The sharks are so small that from afar they will just look like little patterns. It's a great way to add a bit of personality into smart attire.
Read Recent Customer Reviews on Amazon.com →
Fans of Monopoly will already know that you can get a wide variety of different versions and special editions of the popular property trading game. How about one with a shark twist?
We'd never heard of Sharkopoly until we researched this guide, but here it is. This is suitable for 2 to 6 players, ages 8 and up and includes playing tokens designed as a mask and snorkel, buoy, flipper, fin, jawline and shark. Great fun for all the family.
Read Recent Customer Reviews on Amazon.com →
No self-respecting guide to shark gifts for shark lovers would be complete without at least one plush stuffed animal toy. Made from soft and durable, high-quality polyester, this realistic-looking toy measures 39.4-inches and has been lovingly and painstakingly designed to closely resemble a shark with lots of markings and other features.
Soft and comforting, this is perfect for children and those grown-ups who like to snuggle with something, even if they have a partner or spouse. It's machine washable and can be tumble dried on a low temperature.
Read Recent Customer Reviews on Amazon.com →
Are you one of those people who likes to dress their dogs up in all manner of silly, but fun costumes? Perhaps you know someone that does. Then, check out this high-quality and full-body flotation support that's perfect for your dog when you want them to join in the fun on the water with you.
It's designed to resemble a shark's back and has a flexible dorsal fin that's rigid enough to be gripped. A lead can be attached to the metallic D-ring.
Read Recent Customer Reviews on Amazon.com →
Made from hotel-quality, lightweight, luxurious and breathable 100% cotton, this duvet set is an excellent way to give a bedroom an aquatic look and feel.
With grey and white sharks and fish, you'll not know whether to get under the covers or sleep on the floor. It's great for binge watching Shark Week that's for sure!
Read Recent Customer Reviews on Amazon.com →
15. Adopt a Great White Shark
One of our favorite shark gifts, the gift of giving! Adopting a Great White Shark, or any other kind of shark makes the perfect shark gift.  Although you don't actually get to take home a Great White Shark, you do get a great gift package!
You can adopt a great white shark to help protect this endangered species of magnificent creatures. And of course, show off to your friends about how you actually own one of the world's apex predators!
Make a Difference Today →
If you're looking for some cool shark stuff and a bright and striking way to show your love for these majestic and beautiful beasts, why not consider one of these great shark neon lights?
Made using colored silicone LED tubing, it resembles a shark's fin swimming through the surface of the water. It's super cool for any shark loving, LED enthusiast!
Read Recent Customer Reviews on Amazon.com →
So you may know someone who loves sharks, so much so, that they own one of these land sharks we call dogs. How about a nice angry shark design- puppy house for your dog or a friend's new puppy?
Cute, if a little terrifying design, it will keep any dog that sleeps in it comfortably and warm. And make a jawsom shark gift for any shark lover who has their very own furry land shark.
Read Recent Customer Reviews on Amazon.com →
Some more cool shark stuff! Are you looking for a shark gift for a Dive shop owner or instructor? How about bringing a touch of the outdoors into their business premises with an animal-themed business card holder? And when we say animal – we, of course, mean Shark!
These shark models are made from solid walnut wood, laser cut and waxed by hand to give a low-sheen and soft finish. They come very easy to assemble in three parts. A great Sharkey touch for any office.
Read Recent Customer Reviews on Amazon.com →
Hand-carved using sand, this tribal hammerhead stemless glass from Integrity Bottles that has a deep etch design that you can feel. The way it has been handblown and the fact it's been dipped into cold water gives it a crackle texture.
The perfect shark-inspired way to enjoy a drink of your favorite wine. If you're shark lover also loves other marine life, they have a great variety of mermaids, turtles and other glasses available too!
Read Recent Customer Reviews on Amazon.com →
Is your shark lover also into diving books or any other kind of books? How about a sharky bit of fun for their bookshelf? Perhaps to keep all those shark books neat, tidy and standing upright.
These awesome bookends are perfect for any one who loves sharks! One bookend resembles the shark's head, while the other resembles the tail. Really cool.
Read Recent Customer Reviews on Amazon.com →
You could treat the woman in your life that loves sharks with this awesome little hammerhead ring. It's so pretty and will no doubt make a perfect choice of shark gifts for her!
Made from sterling silver, it resembles a hammerhead shark and has been designed to fit most people. It's also a great conversation starter, providing them the perfect opportunity to talk about their favorite kind of fish – sharks.
Read Recent Customer Reviews on Amazon.com →
Vans trainers are incredibly popular, comfortable and durable. Kids and adults have been wearing these kinds of sneakers for so many years. It's only natural that they have made a pair with sharks on them.
A perfect shark gift, these sneakers are made from 100% canvas and now thanks to these brilliant reissues, you can get a totally cool shark-themed pair to show off your appreciation of these cool creatures.
Read Recent Customer Reviews on Amazon.com →
Another great piece of clothing with a shark theme, for the shark-loving guy in your life, is this 'I Like Beer and Sharks'. Another shark conversation starter and perfect choice of shark gifts for him.
Maybe it's the women in your life that love Beer and Sharks? There's a women's version too! Making it also a choice of shark gifts for her! With an attractive picture of a blue and white shark and a brown bottle of beer to match the brown of the word 'beer', it's perfect for anyone who loves these two things.
Read Recent Customer Reviews on Amazon.com →
By now, you've probably heard of the song 'Baby Shark' (don't sing it, don't sing it!). This t-shirt is perfect for all mommy's out there that love sharks.
The problem is that once you wear and read this, the song will be stuck in your head all day! There are also options out there for daddy shark, baby shark, grandma shark and… well… you get what we mean! Great gifts for shark lovers!
Read Recent Customer Reviews on Amazon.com →
How about a sexy pair of whale shark leggings to go with the Mama Shark t-shirt above? These leggings mark a great choice in gifts for shark lovers of all kinds! They are made from polyester ammonia cloth and they look amazing!
Not only is it moisture-wicking and breathable, but it's not see-through so there's no fashion faux pas or problems with VPLs! A great shark gift for your yoga or whale shark lover!
Read Recent Customer Reviews on Amazon.com →
So there you have it. 25 JAWsome shark gifts for shark lovers! So whether you have a birthday coming up for someone who loves sharks, want to surprise your dive buddy or quite simply just want to treat yourself to some cool shark stuff, we hope you have found the perfect shark gift for your shark loving chum!