Night diving is a whole new dive experience and you don't even need a lot of different gear for scuba diving at night. At first, it can be a little scary, but there are so many new things to encounter in the dark underwater world.
Apart from your normal diving gear, getting a dive light for scuba diving at night is the main priority. There are a couple of new signals and skills to learn, but ultimately everyone should try night diving!
The Ultimate Night Diving Guide For Beginners
If you're planning on completing a night diving specialty course or want to explore the deep blue during the night on your next dive trip, there are some things you need to know.
We've put together a quick guide on night diving and answers to the most common questions such as why you need a strobe on your dive light and also some underwater flashlight maintenance tips to keep you going!
How Are Night Dives Different from Day Diving?
Night diving is a specialty so you will need to take a night diving course. In a night dive course, you will familiarize yourself with how to use night dive gear and practice dive skills specifically for dark environments.
Examples of night dive skills are diving with a strobe on your dive light, underwater communication in the dark and how to move in minimal visibility. Many of the dive skills that you learn in a night diving course are to mentally prepare you for underwater situations where you cannot see far ahead.
All this training is worth the beauty that you see and the adrenaline that you feel during a night dive. The coral and fish light up differently under your dive light. You also get to see sea creatures that are only active once the sun goes down. Here's a short video on how to communicate during a night dive.
For an even more unique night diving experience seek out a dive center that offers
Fluorescence diving
. Fluorescence diving or fluodiving also takes place at night but you are diving with special blue light torches or ultraviolet light torches. This specific wavelength of light transforms the natural color of the fish and coral making it appear fluorescent.
Tips for Night Diving
What makes night dives so thrilling is the limited visibility. In some ways, the colors of marine life stand out more against the darkness but the darkness also affects your sense of control during the dive. Maintain your cool during a night dive by doing the proper preparations and altering your dive habits. 
If you are nervous about unfamiliar spaces then take a daytime dive in the same area that you want to do a night dive. This way, it is easier for you to navigate when you have less visibility at night.
Also, limited visibility means you should stick to a smaller area. Look for a dive spot with recognizable features that you can use to mentally visualize where you are, even though you see less.
Some divers experience vertigo when they enter the water head first. It takes a few moments for your body to orientate itself in the dark water. Instead of the traditional backward drop into the water, enter the water feet first. This way you are more aware of what is up and down.
Stay close to your dive buddy. It is much easier to lose your dive buddy during a night dive.
How to Use Light During a Night Dive
Control over your light sources is the most important aspect of night dives. Here are a few different ways on how to use light to your advantage during a night dive.
Make sure that your entry and exit points are clear and easy to find. Attaching a strobe to a rope hanging under the dive boat is good guidance. You can also place a strobe on the shore with an angle that is still visible underwater.
Also, make sure that your dive light has a strobe. This is not only a precautionary step but you can also use it for communication with your dive buddy.
Have several light sources on your during a night dive. This includes a primary dive light and a backup dive light (with the batteries checked). If you want then you can also attach locator lights onto your BCD.
Psssttt… Don't have a dive light? Here are our 3 most popular dive light picks: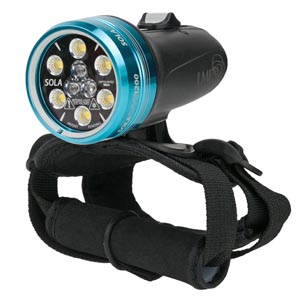 OUR #1 PICK
Light and Motion SOLA Dive Light
1200 Lumens
270mins Run Time
Lightwieight
Perfect for Travel
Check Amazon →
Read our review
PROFESSIONAL
Dive Rite LX20 LED Primary Dive Light
20,000 Lumens
Primary Light Source
Double O-Ring Seal
500 ft Depth
Check Amazon →
Read our review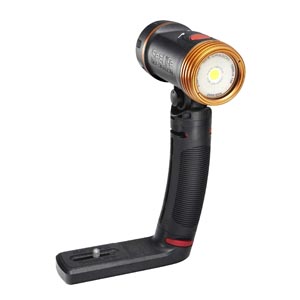 GREAT FOR VIDEO
SeaLife SL672 Sea Dragon Video Dive Light Kit
1500 Lumens
3 Brightness Levels
1 Button Control
80 CRI
Check Amazon →
Read our review
Human eyes have more difficulty adjusting to the darkness. Let your eyes adjust to the darkness gradually by going for a sunset dive. This way you have time to familiarize yourself with the area and then enjoy the change in marine activity once the sun is completely gone.
Finally, don't let the fear of darkness make you miss out all the beautiful colors and nighttime marine activity. You can practice diving with minimal visibility which also improves your skill as a daytime diver.
Plus, you do not need a lot of extra gear for a night dive so it is not a major investment either. Excited to try night diving? These are the most beautiful spots for a night dive in the world.