One of the most common questions we come across regarding diving and the various techniques, dive equipment and anything else involved in the sport we love is 'how does a snorkel work?'
This is a justified question because after all, a snorkel is one of the most easily recognized pieces of equipment used by divers of all experience levels and even in different kinds of diving.
So if you're serious about learning more about diving, have invested in a great new dry snorkel for diving and it's becoming more than just a passing hobby that you participate once in a blue moon, finding out how a snorkel actually works, might be something you'll want to learn when getting ready to explore your next best snorkeling destination.
How Do Snorkels Work?
In the following blog post, we are going to cover exactly how a snorkel works. Interestingly, you may or may not know it but there are actually a few different kinds of snorkels. They work the same with minor differences.
First and foremost, a snorkel makes it possible for you to breathe while your head is submerged in the water. But understanding a bit more about how they work though will help you to improve your diving experience overall. It will also increase your confidence underwater and help you to identify when there may be issues with your snorkel.
Let's take a look at the different snorkels and how they work.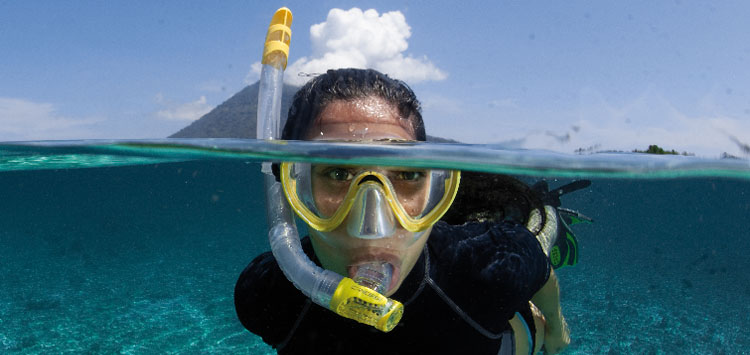 Different Types of Snorkels
Snorkels range in quality, from basic J shape snorkels that are commonly used by scuba divers and free divers to advanced snorkels with one-way purge valves for easy clearing and floor valves to prevent water from entering into the snorkel as you dive down. Snorkels range from basic classic models to more advanced dry snorkels and semi-dry snorkels.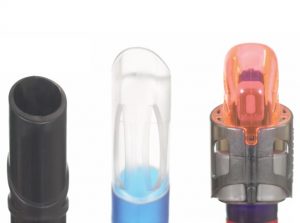 In its purest form, a snorkel is simply a tube with a fix curve section which finishes with a mouthpiece. Its sole purpose is to allow the user to breathe easily and efficiently without having to raise their heads out of the water.
Scuba divers prefer them because they are the simplest and easiest to tuck away for when they need them on the surface. Although, there is a big debate on whether or not snorkels are necessary for scuba diving. Free divers who can dive to great depths on a single breath and rely on being as streamline as possible use only these snorkels due to their simplicity and reduce drag through the water.
Classic Snorkels – How do They Work?
The traditional snorkel is a simple J shaped tube which finishes with a mouthpiece. You use this snorkel by attaching it to your mask either by using a clip or fixture provided. Adjust the height of the snorkel so that the mouthpiece arrives at the level of the mouth to avoid any tension.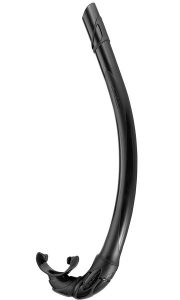 This way, the snorkel is well-positioned out of the water. While wearing the mask, we will avoid breathing through the nose, you will only use your mouth to breath in through the snorkel and maintain the top of the tube above the water while your head is below the surface.
Snorkels are designed to sit to the left side of your head and face. This is because of how the mouthpiece curves. It is crucial that you have the snorkel sitting straight upwards when snorkeling near the surface.
This helps to keep water out because if it was angled at any degree backward or forwards, water would be able to get into the tubing more easily. While it may seem like perfect common sense, it's also imperative that you remember to keep the mouthpiece in your mouth.
Don't let the beautiful and wonderous distractions of what you're seeing and experiencing under the water let you forget that.
Dry Snorkels – How do They Work?
Dry snorkels have become increasingly popular over the last few years within the diving community. Unlike other forms of snorkels, these are designed to stop all (or as much as possible) water getting into the tub. They have a special floatation device attached to the snorkel's tip that functions as a one-way valve, that means the float will rise and close the opening when there's water.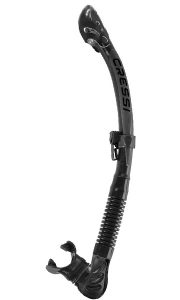 It's worth noting that this kind of snorkel is a new player in the world of diving. The first designs of dry snorkels were incorporated into a special mask, that consisted of two snorkels that had balls inside their tubes to stop the water getting in. Fortunately, the design has progressed and evolved.
Modern variations are not only made from higher quality materials that make them far more robust and durable but also utilize improved tech so that they provide a better experience than the originals, lighter and slicker designs have replaced those bulky and heavy snorkels of old.
All manufacturers of snorkels have a slightly different way of doing things but are just as equally effective. Most models though feature a plastic covering that sits over the snorkel and prevents water from entering the tube when it is above the water. When you dip under, they have a mechanism that automatically seals the tube.
Let's take a look at the ScubaPro Spectra Dry Top Snorkel from our list of the 10 best dry snorkels for scuba diving in more detail to understand better how these dry snorkels really work.
Although the name may suggest another side, dry snorkels are not actually totally dry. There is the possibility of water getting into the tube, for instance, if the mouthpiece drops below the surface while it's out of your mouth.
As an effective way of combatting this though, snorkel makers include what are known as purge valves. All you need to do is simply exhale deeply to remove any water from the tube.
Semi-Dry Snorkels – How do They Work?
Semi-dry snorkels are a similar design to dry snorkels explained above but they are actually designed to keep water out by using a splash guard at the top of the tube instead of a dry top.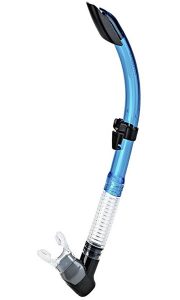 If however, water does manage to get inside the snorkel, usually due to big water splashes or choppy seas on the surface, a semi-dry snorkel features a one-way purge valve which allows you to flush water out easily.
Semi-dry snorkels also usually feature a flexible tube section which allows the silicone mouthpiece to hang out of the way when scuba diving.
As well as understanding what a snorkel does when you use it for diving, you need to know how to use one properly.
The best way, of course, is to attend some practical and informative diving and snorkeling classes taken by veteran divers with plenty of experience.
That really is the best way to gain all the skills and knowledge you need to be as safe as possible while getting the very best out of diving and exploring the watery depths.
There you have it, guys and girls, we hope this has been a helpful guide to understanding a little more about how snorkels work. There are also full face mask snorkels, like the Tribord Easybreth, these snorkels work differently as they cover your whole face. We hope it helps you get the most out of your dives and snorkeling experiences.