So you have a box for your scuba mask, and a regulator bag for getting your gear to the dive site but when you are packing for a scuba holiday, it's a good idea to invest in a dive bag to keep all your scuba diving equipment protected and together from and to airports.
Traveling with diving gear means having a protective case during air transportation and a mesh bag that can handle wet conditions at the site. Depending on your requirements, dive bags come in super handy. They make it easier to carry scuba equipment from place to place.
So whether you have heavy duty accessories, camera equipment or just want to bring lots of different gear options with you for your next trip – you're gonna need a bag large enough to fit everything in. We know there can be so many different choices out there on the market today, so we have done our best to review the top 10.
10 Best Scuba Dive Bags For Your Next Trip
When planning for a scuba vacation, the reality is, you need both a bag for air travel (and other transportation forms) and a dive bag that you can bring along with you on the boat. Both serve a different but important purpose.
Your main bag should be able to carry weight load, provide support and also protection from rough handling and weather conditions. Your second bag option will be for keeping your accessories and smaller kit together once at the dive site and should also be suitable for carrying wet gear, like mesh dive bags for example.
Investing in one of the following choices will help you organize your equipment and also give you space for sunglasses, reef-safe sunscreens and anything else that you'll be bringing along. When reading our reviews, take into account the different sizes, features, dimensions and storage options to make sure you find your perfect piece.
So whether you are looking at the best winter scuba destinations or a summer dive trip, we've put together a list of the best duty gear bags for a scuba holiday. Our list includes choices of dive bag with wheels, roller dive bag, polyester mesh bags that can get wet and heavy duty roller bags for air travel so that you are covered in all areas.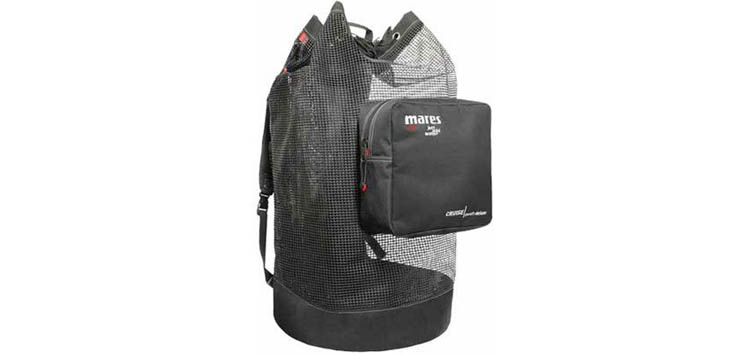 This Mares bag is one of the best mesh designs we have seen so far. It is comfortable to use as a backpack thanks to its adjustable chest strap and sternum strap but you can also carry it in your hands using the two rubber handles.
Its a great size with plenty of room, simply pack your scuba gear from the drawcord top opening and then use the side zipper for quick access once your items are already packed. It's made from mesh fabric but the back features a special design that protects you from wet gear.
Check Latest Deals & Offers From Amazon →
(don't worry, button opens a new tab)
It also features an extra nylon enclosed compartment at the front for any items that you don't want to get wet. The clever design makes it versatile, strong with easy access. The front pocket is also a great fit for your regulator bag.
| | |
| --- | --- |
| PURPOSE | Scuba excursion |
| DIMENSIONS | 29 x 17 x 16 inches |
| MATERIAL | PVC & nylon & polyester |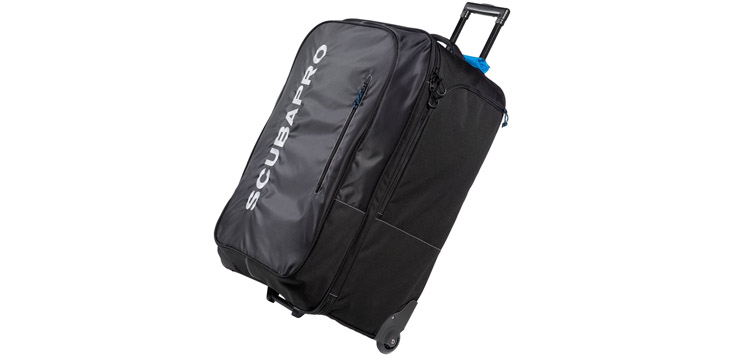 Scuba diving gear is heavy so having handy roller bags for storage makes traveling with your own scuba gear a lot easier. Save yourself from lifting a heavy load with the ScubaPro XP trolley handles so you can stay agile.
Check Latest Deals & Offers From Amazon →
(don't worry, button opens a new tab)
This model is made of strong nylon fabric and is large enough to fit all your scuba equipment. The compartment features two mesh pockets for keeping equipment from tangling into each other, great for dive computer protection or a place to store a regulator bag.
| | |
| --- | --- |
| PURPOSE | (Air) travel |
| DIMENSIONS | 31 x 19 x 17 inches |
| MATERIAL | 420D nylon & 450D rip-stop material |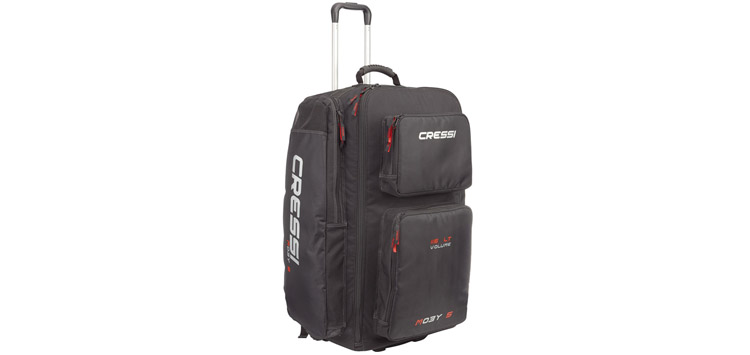 Even basic scuba gear has many different parts and pieces to it, that's why it's important to have a dive bag that lets you pack the contents separately into pockets to provide more protection of your valuables. Cressi's version of roller bags features plenty of pockets and compartments for packing any accessories you want to bring with you.
Check Latest Deals & Offers From Amazon →
(don't worry, button opens a new tab)
The Cressi Moby 5 is an excellent choice for those who look to keep the interior of accessories perfectly organized and carefully packed. It is also great for when you want to limit your weight load since you can sneak in non-diving gear in the extra pockets.
| | |
| --- | --- |
| PURPOSE | (Air) travel |
| DIMENSIONS | 20.5 x 14 x 9 inches |
| MATERIAL | 300 & 400 Denier fabric |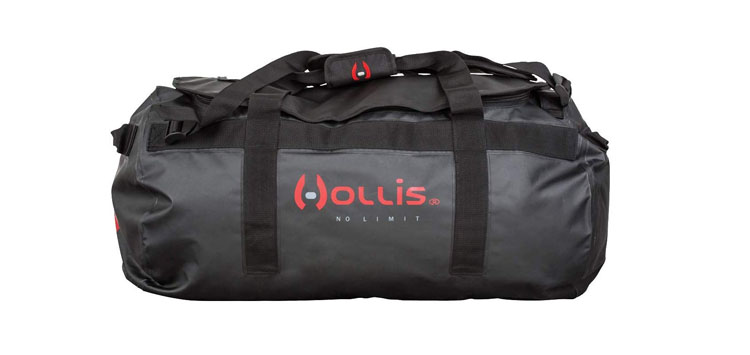 If durability is something you are looking for in your carry on – this is the one for you. Hollis have a reputation for engineering high-quality equipment for technical divers and are firmly focused on providing customers with the diving solutions they need for the more complicated diving situations they may find themselves in.
Although the high-end look and feel are present in this awesome duffle bag by the brand, it is a substantially simpler affair. It has been manufactured from a very durable and robust tarpaulin fabric and with a maximum capacity of 96-liters, offers enough space for all the diving gear you would need to take along on a technical expedition or if you are going away for a long time.
Check Latest Deals & Offers From Amazon →
(don't worry, button opens a new tab)
It offers a number of carrying options, from the backpack-style shoulder straps to the carry handles at both ends of the bag. Both of which have padded handles. There is an ID pocket to the top of the bag.
The thing we really like about this bag, aside from its impressive size and capacity is the ruggedness of its design. It has both puncture and abrasion resistance seams, so it is unlikely to fall apart even after you put it through its paces on various trips.
| | |
| --- | --- |
| PURPOSE | (Air) travel & Scuba excursion |
| DIMENSIONS | 16 x 12 x 4 inches |
| MATERIAL | 600D 78T nylon & polyurethane, 420D nylon mesh with non-corrosive plastic hardware |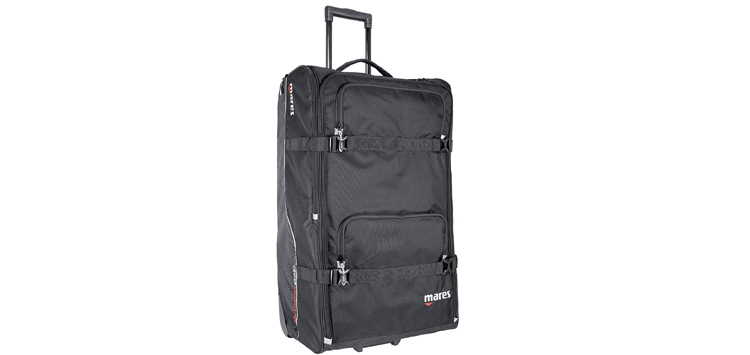 The Mares Cruise Backpack Pro roller bag has undergone a makeover and we love the hidden perk of this new scuba travel roller bags design. This bag may look like an ordinary trolley bag but the interior is a beauty case complete with a mirror so you can check yourself at any time during the day.
Check Latest Deals & Offers From Amazon →
(don't worry, button opens a new tab)
Besides the hidden perk, it also a handy design that can be converted into a backpack complete with shoulder straps – making it one of the most versatile bags on our list. Another great design element – the storage pockets for fins has a water drainage system to protect it from mold. All of this for a great price too.
| | |
| --- | --- |
| PURPOSE | (Air) travel & Scuba excursion |
| DIMENSIONS | 18.5 x 12.5 x 31.5 inches |
| MATERIAL | 600D nylon & PVC |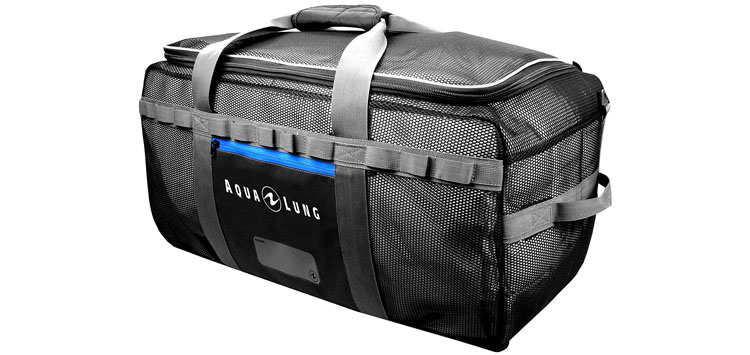 When you need to bring scuba diving bags with you, size volume and portability are important. Cue in the Aqua Lung Explorer mesh duffel bag design that is collapsible to just a few inches for easy storage. The opening on this duffel is easily accessed by the main zipper and it is very easy to carry using the straps provided.
Check Latest Deals & Offers From Amazon →
(don't worry, button opens a new tab)
The interior has a padded air mesh body so that your equipment dries faster. Also, don't worry about damage from saltwater since the zipper is non-corrosive and you can keep accessories in the tarpaulin sleeve pocket, away from your wet stuff.
| | |
| --- | --- |
| PURPOSE | Diving excursion |
| DIMENSIONS | 3 x 9.5 x 14.5 inches |
| MATERIAL | Air mesh & tarpaulin & polyester |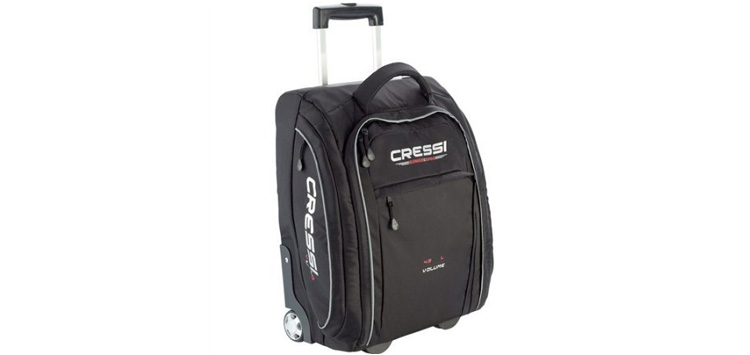 This lightweight and compact roller bag by Cressi is ideal as an extra bag since it is designed to fit most airline carry-on hold requirements. Keep your most delicate diving gear safe in this scuba gear carry on bag that you can keep close to you on the airplane. This sturdy roller bag option features both side pockets and a front compartment and is large enough so you can organize your stuff better.
Check Latest Deals & Offers From Amazon →
(don't worry, button opens a new tab)
The zipper on the front of this bag also makes a great place to store your travel documents or dive cards when you are on the go. Or, use the Cressi Vuelo carry-on bags for budget travel and pack in all your clothes and toiletries all in the same place. Check out these tips for bringing diving gear on an airplane.
| | |
| --- | --- |
| PURPOSE | (Air) travel |
| DIMENSIONS | 20.5 x 14.2 x 9 inches |
| MATERIAL | 300D & 400D Nylon |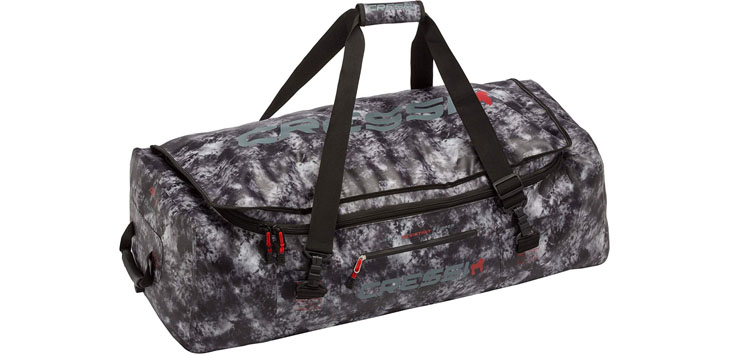 Diving gear can sometimes be bulky so if you plan on carrying most of your own gear during your holiday you'll need a piece large enough to fit everything in. The Cressi Gorilla Pro XL is a duffel bag design that is great for packing large diving equipment.
Check Latest Deals & Offers From Amazon →
(don't worry, button opens a new tab)
The Cressi Gorilla Pro XL is a duffle bag meant for air travel but the designers have also considered any wet gear you might be carrying. This scub bag has a draining cap that you can use for both draining or washing it, even simultaneously. It's a beautifully styled bag for a great price.
| | |
| --- | --- |
| PURPOSE | (Air) travel & diving excursion |
| DIMENSIONS | 37.5 x 13.5 x 16.5 inches |
| MATERIAL | 500D Nylon & PVC |
Not all diving excursions require you to carry a lot of personal stuff or weight. For the trips where the equipment is organized for you, and you don't need to carry a lot of weight, keep the few personal items that you do carry with you in this lightweight Tusa mesh backpack. The reviews speak for themself.
Check Latest Deals & Offers From Amazon →
(don't worry, button opens a new tab)
This backpack has a mesh and nylon design that keeps your back dry when carrying wet gear. You can also be sure that your delicate gear is not moving around thanks to the four external shoulder straps that keep your equipment tight once packed away.
| | |
| --- | --- |
| PURPOSE | Diving excursion |
| DIMENSIONS | 28 x 18 x 14 inches |
| MATERIAL | Nylon |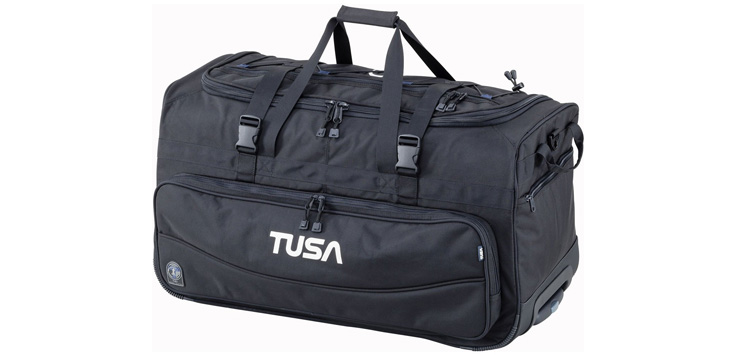 When you are looking for durability, gear protection and a safe place to store camera equipment, the TUSA model is a good choice of a duffle bag for you. This heavy-duty duffel bag is very versatile and can be carried as a duffel bag or pulled alongside you like roller bags. Ideal for when it is full with heavy items.
Check Latest Deals & Offers From Amazon →
(don't worry, button opens a new tab)
The TUSA dive bags features plenty of large contents sections, including a double-zippered outer pocket, to fit all your stuff and keep everything organized. The wheels are heavy-duty so you can pull your equipment with you on any terrain and the back is water-resistant so you don't get wet while carrying.
Making this the perfect option of diving bags with wheels.
| | |
| --- | --- |
| PURPOSE | (Air) travel |
| DIMENSIONS | 28 x 18 x 14 inches |
| MATERIAL | Nylon |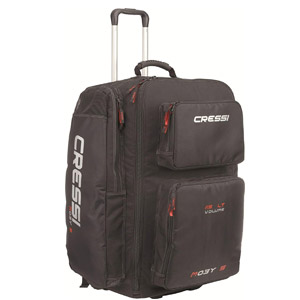 BEST ROLLER
Cressi Strong Large Roller Luggage Bag
Large Trolley Bag
Opens On Three Sides
Adjustable Padded Straps
Reinforced Pull Handle
Check Amazon →
Read our review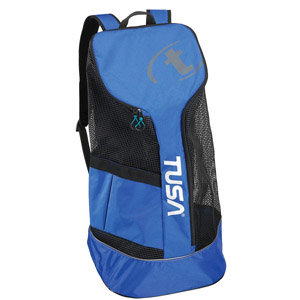 BEST BACKPACK
TUSA BA-0103 Mesh Scuba Bag Backpack
3 Color Options
Padded Shoulder Straps
Great For Day Trips
Large Outer Pocket
Check Amazon →
Read our review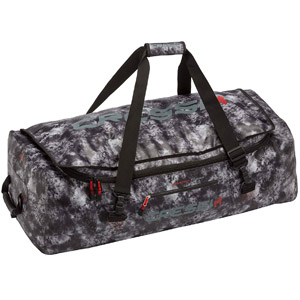 BEST DUFFLE
Cressi Gorilla Pro XL Duffle Dive Bag
135 Liters Storage
Durable Straps
Large & Roomy Bag
Cool Camo Design
Check Amazon →
Read our review
Diving Packing Guide
When looking for a gear bag, there are a few things you will want to take into account and some questions you should ask yourself beforehand. Do you need a bag with pockets, easy access, heavy duty handles, what shape should you get, what style and so much more. This will all come down to personal preference and also your choice of travel destination.
There is one other thing you need to think of, and that's how should you pack your gear bag.
We have put together this short dive packing guide to help you do just that. Think about all the diving gear you want to bring along and how it will fit inside it the interior of your bag. What you can fit into pockets, zipper sections, and storage areas. Think about how sensitive your scuba gear is and whether it is better to pack them separately.
What to Pack in Your Dive Luggage?
Having your own scuba gear feels comfortable but it is not always the most practical option. Think about the essential diving gear you'll need and what you can rent instead. You might also want to use your bag for your clothes and accessories so you'll need to take into consideration your weight and size limit too.
This is the basic dive equipment to pack:
BCD
Knife
Diving computer
Fins
Scuba suite
Dive hoods and gloves for cold waters
Take a look at this instructional video on how to pack your bag. This gives you a better idea on how to pack your own dive valuables to reduce the risk of any damage and also reduce weight.
What Size Scuba Bag Do You Need?
How big your diving luggage needs to be, depends on what gear you will be carrying with you. The biggest item in your bag is probably your BCD so take that as the leading measurement when deciding on what sizes to buy.
Another good indicator for the size scuba luggage you need are your fins. Many bags offer separate outer compartments specifically for fins but if the scuba bag does not have these then measure the length of the fins to find out whether there will be enough room in the main compartment.
Aside from fitting in all your gear, think about the type of travel you want. Asides from the material, shape and price, you'll need to know your sizes, dimensions, and weight limits. It's a good idea to check the airline guidelines if you will be traveling to different countries.
Also, how portable does a bag need to be? Will you be hauling your gear with you over long distances? If you have a lot of weight to carry, you don't want a duffel back with shoulder straps. Get a large volume bag and read the product reviews before making up your mind.
A large gear bag is great for keeping all your personal stuff with you but it is not always practical. In some cases, it is better to stick to less diving gear and then renting the rest of your diving equipment at the site.
Water and Your Scuba Diving Bag
A wet dive bag is unavoidable. That is why all scuba bags are made of somewhat waterproof material, even the diving luggage intended for flying.
Pay attention to the type of material that the gear bag is made of and whether it suits its purpose. A travel dive bag is usually made of waterproof nylon, for example, while a diving excursion bag is usually made of strong mesh material.
Interested in a more advanced way of dealing with water in your bag? Then, look for a bag with a drainage and ventilation system or a quick-dry system. It's also useful that any bag you invest in has pockets for your storage.
Also, always make sure that the zippers on your bag are non-corrosive. They are bound to get wet so you want heavy-duty zippers that will last as long as possible, even in wet conditions.
Traveling with Diving Gear
Dive gear is bulky with sensitive parts. Carefully plan out how you will pack your luggage and how you will carry it to make sure that all your diving gear is protected. Its also a good idea to think of the easiest way you will be unpacking your bag.
If you are a frequent traveler, consider getting diving gear that was specifically designed for travel. There are travel scuba BCDs, for example, that are easier to fold into a dive bag or suitcase.
When you are using air transportation, always check the guidelines of the airline you will be flying with. Maybe there are different guidelines for sports equipment.
For more tips on traveling with diving gear, check out this list of tips.