As scuba divers, we get overly excited when we buy new dive gear. It's like Christmas every time we treat ourselves. Other than the usual pieces of dive kit, there are a few other bits and pieces every dive should own.
The list of possible dive gear is endless but we have pulled together a list of the 20 most important scuba accessories. Although some of these items are more useful for professional divers, many recreational divers will find them great additions to their dive gear too!
20 Best Scuba Diving Accessories
We've not included any BCD or dive suits on this dive gear list. The dive accessories that we chose to include are more personal to you. Everyone needs a BCD and a dive suit which is why you can rent them at any dive center.
The scuba accessories listed below are all portable enough so you can put them in your bag when you travel to your next diving destination. From everything to safety accessories to the best strobe dive lights, there's something for every diver here.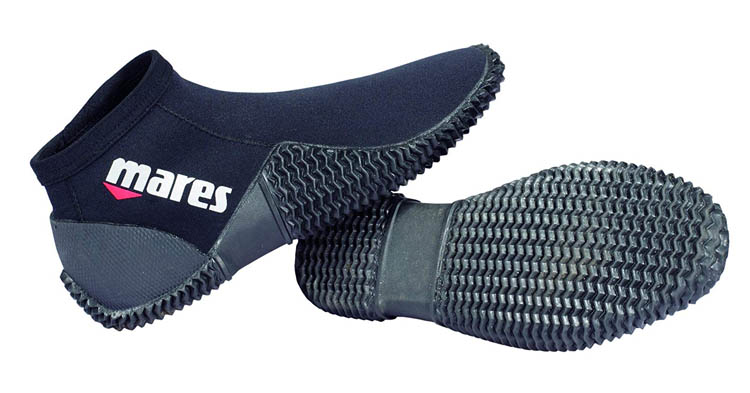 Dive booties are a lifesaver for when you enter the water from a beach full of coral and sharp rocks. These Mares dive boots are strong and comfortable, specifically designed for warm water diving. These are short top slip-on dive boots that you can easily slide into fins with.
So, when you are walking into the ocean instead of entering from a dive boat, these dive boots will protect you from sharp dead coral and broken shells. Note that this model runs a bit large so check the sizing chart whether you should buy a size smaller.
Read Recent Customer Reviews on Amazon.com →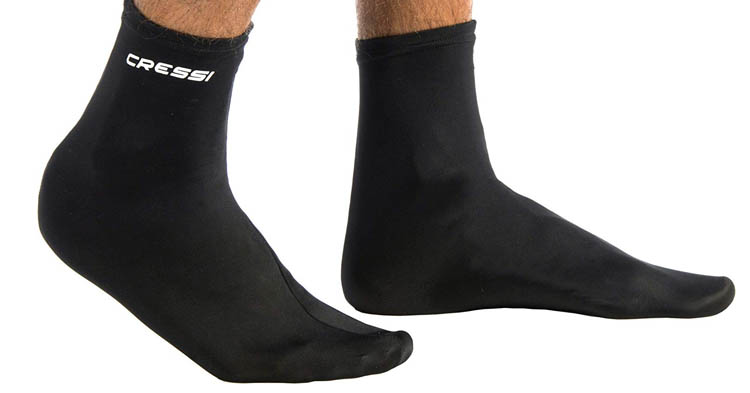 Dive socks are more versatile than you think. You can wear these dive socks with a dive boot for extra warmth but they are also thin enough to wear on its own in warm water. They are also a good pair with fins for a more snug fit or for when you are new to diving and the fins irritate the skin on your feet.
Cressi labels these dive socks as 100% stretch meaning that one size fits most. The neoprene used for these dive socks are a quick-dry material meaning you do not have to wait too long in between dives for these dive socks to dry.
Read Recent Customer Reviews on Amazon.com →
Your extremities are the first part of your body that stiffen when exposed to cold temperatures so having diving gloves for cold water dives is essential. Good quality dive gloves are anti-slip, good grip and flexible enough for fine motor skills. The Cressi High Stretch dive gloves check all these boxes.
The Cressi High Stretch dive gloves have a natural design meaning the seams for the slight bend that we have in our fingers. The inner layer is made with Metallite which is comfortable and easy to slip on. The outer layer has a non-slip surface so you can still grip on to your gear and rocks.
Read Recent Customer Reviews on Amazon.com →
A strong spacious dive bag makes traveling with your own dive gear much easier. Don't underestimate the space that you need and directly go for a big dive bag like the Cressi Gorilla Pro XL.
The Cressi Gorilla Pro XL has an internal capacity of 135 liters. It is made of strong waterproof PVC with both shoulder straps and straps on each end. The best feature is its draining cap so you can use this dive bag as both a washing bag and travel dive bag.
Looking for the perfect dive bag? We've put together a list of the best dive bags currently available.
Read Recent Customer Reviews on Amazon.com →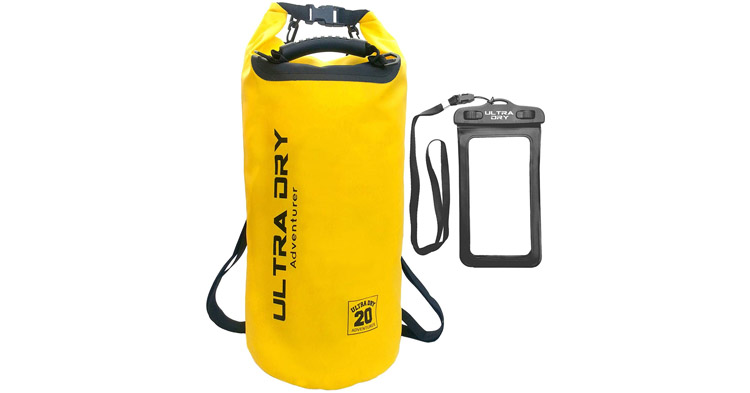 The Ultra-Dry foldable waterproof bags are extremely popular, not just with divers but with anyone who enjoys water sports. The size is perfect for when you are carrying limited gear but you still want to keep a few electronics safe from water.
The Ultra-Dry Adventurer comes in three different sizes to fit your different needs. Each design comes with shoulder straps and a hand handle, however, you want to carry it.
Read Recent Customer Reviews on Amazon.com →
This retractable gear tether by T-Reign is an excellent way to keep all your dive gear secured yet still accessible during your dive. It features a heavy-duty Kevlar cord and polycarbonate casing that will last you for many dives.
Read Recent Customer Reviews on Amazon.com →
It is never a bad idea to carry a first aid kit with you. This small compact first aid kit comes in a water-resistant casing so you can carry it with you on the dive boat.
The kit includes treatments for stings, allergic reactions, dehydration, motion sickness and the basic first aid kit gear like gauze and scissors.
Read Recent Customer Reviews on Amazon.com →
Keeping your dive log is one of the fun aspects of being a diver. It lets you look back at all the places and types of dives that you have done.
This log book binder is specially designed to fit PADI inserts but you can also keep your credit card, mobile phone and pens in the designated compartments. Not keeping a dive log yet? Here are six reasons to change your mind and why you should keep a dive log.
Read Recent Customer Reviews on Amazon.com →
This heavy-duty diving lanyard is made of stainless steel, TPU and nylon webbing. It attaches to your BCD with a simple hook while the second hook is for attaching your gear.
The quick release buckle is to allow for greater movement with your underwater camera or dive light without having to remove it from your BCD. Then, once you are returning to the surface, you can secure your gear closer to your BCD for better streamlining.
Read Recent Customer Reviews on Amazon.com →
This cool dive light design by ORCATORCH frees up your hands during your dive since the dive light wraps around your wrist. All you have to do is aim your arm to the space you want to lighten up. Don't worry about the wrist strap coming loose because there is an extra fastening with a lanyard.
The ORCATOTCH dive light is bright at 1000 lumens. Its 5 hours of run time gives you enough time to use this dive torch as a primary dive torch or backup dive torch. It also has a strobe mode so it is definitely a multifunctional dive light.
Looking for the perfect dive light? We've put together a list of the best dive lights currently available.
Read Recent Customer Reviews on Amazon.com →
This versatile dive knife by Atomic Aquatics has a honed full-tang titanium 4-inch blade. The blade has both a serrated edge and a sharp edge. For the tip you can choose between a pointed and sharp tip.
The comfortable handle is curved for a better grip. This dive knife comes with adjustable straps that you can secure to your BCD during your dive. The blade fits inside the provided sheath so you can easily pull it out during a dive.
Looking for the best dive knife? We've put together a list of the best dive knives currently available.
Read Recent Customer Reviews on Amazon.com →
Since verbal communication is not possible underwater, you need dive gear to draw your dive buddy's attention instead. For when your dive buddy is looking elsewhere, use this dive shaker by Scubapro to make a noise that you can hear underwater.
It is a handheld device that you can rattle to make a noise. There is a magnetic stopper at the end so that you are not constantly making noise as you are diving.
Once you have caught your dive buddy's attention, you likely need to use hand gestures to communicate further. It is important to understand and recognize the standard signs for communication during dives. Take a look at this extensive list of hand signals for underwater communication.
Read Recent Customer Reviews on Amazon.com →
This tiny piece of dive gear is your lifeline for when you are lost at sea. It has a GPS tracker that can communicate with any AIS-equipped ships and is linked to your own dive boat via DSC message.
This waterproof GPS locator comes with a pouch that you can connect to your BCD with the coil lanyard. The GPS locator is accurate to 1.5 meters and floats. Maintenance is also minimal, the only thing you need to check is that the o-rings are clean.
Read Recent Customer Reviews on Amazon.com →
In emergency situations, a strobe is more important than a dive light. This is because strobes have a much longer run time like this model by IST that lasts for 72 hours.
This battery-powered strobe comes in four different colors. It is waterproof up to 330 feet. Use the cord to attach the strobe to your BCD.
Read Recent Customer Reviews on Amazon.com →
This scuba diving tool kit by Innovative is a good starting point for a diver wanting to build their tool kit. It comes with a variety of basic tools that are most commonly used during a dive. The zippered casing is made of cordura.
Read Recent Customer Reviews on Amazon.com →
Being a dive instructor is somewhat like being an underwater tour guide. Meaning, part of your job is pointing out all the beautiful marine life.
This pointer by XS Scuba attaches with a simple hook and is long enough that you don't have to detach it. You can also use it for drawing the attention of the other divers by clanking it against your air tank.
Read Recent Customer Reviews on Amazon.com →
A dive compass is used to navigate your position without having to come to the surface. Sure, there are dive computers with a compass feature but the traditional compass sometimes proves to be even more accurate. It is also a good backup navigation system for when your dive computer fails for any reason.
This dive compass by DGX tech is calibrated for the Northern Hemisphere. It lets you read the degrees from both the side and the top. The screen is also luminescent for better readings underwater.
Take a look at this video to learn how to use a dive compass for underwater navigation.
Read Recent Customer Reviews on Amazon.com →
This piece of dive gear by DiveSmart is incredibly versatile and multifunctional, all in a compact package. It is a foldable surface marker buoy (SMB) with a strobe attachment point. Alternatively, you can attach your dive light if it has a strobe function.
Fold out the package to a maximum of 6 feet. Then, inflate the device by blowing into the open valve or use your regulator for inflation. Once it is inflated the surface marker buoy floats but make sure that it is still secured to you with the dive reel.
This design by DiveSmart is the only model that is completely foldable so this is the best choice for a streamlined dive. It comes in three different colors and is made of heavy-duty nylon.
Read Recent Customer Reviews on Amazon.com →
Storm whistles are used by the marine (among others) to warn for bad weather and emergency situations over a large distance. This whistle is extremely loud as it reaches up to 130 decibels. It is still audible over strong winds and even underwater.
The design is ergonomic, making it easy to hold in your hand. Attach it to your BCD using the key ring so that you cannot lose it.
Read Recent Customer Reviews on Amazon.com →
A professional diver may sometimes need to write for precise communication. So, you need a steady flat surface like this underwater slate by Promate with the pencil attached.
The pencil is able to write underwater and you can use it to directly write on the slate. It is especially useful for dive instructors that want to communicate with their dive students when the standard non-verbal dive communications are insufficient.
Read Recent Customer Reviews on Amazon.com →
Interested in the dive gear mentioned but feel like a different model might be more suitable for you? We got that covered, too. Take a look at our other dive gear lists to compare between brands and designs.
Check out our top picks for the best dive lights or complete scuba packages, as well. These offer more in-depth product information so you can find the best fit for you.