The Raja Ampat islands have often been named a 'divers paradise' region of the world, particularly when it comes to the best liveaboard dive trips available. This Indonesian archipelago near Papua is home to amazing beautiful marine wildlife, crystal clear waters, and much smaller crowds due to Raja being a remote area.
Raja Ampat is somewhat exclusive, for both budget reasons and logistical reasons, as travel costs can take up the bulk of it. But the Raja Ampat liveaboard packages are all-inclusive which gives you wiggle room in what you spend per day.
10 Best Raja Ampat Liveaboard Trips
When looking for liveaboards you can choose between the variety of lower price range of a boat with dorm rooms and the higher price range of a luxury yacht with lots of amenities to allow you to relax and enjoy your amazing surroundings when not diving, such as spas, in fact, all you might want to fit your needs on your diving vacation.
Here are 10 of the best liveaboard dive vessels that tour the islands and brief Raja Ampat liveaboard reviews to get you to the best scuba diving sites in the world.
A new boat out on the waters for your Raja Ampat diving adventures is the Coralia Phinisi, one of the traditional wooden vessels of Indonesia, which only set sail in 2019. It is surprisingly affordable for the amenities and beautiful design that you find onboard.
On this Raja Ampat diving liveaboard boat there are 8 cabins, each for a maximum of 2 people, so there is a total of 16 guests on board at any one time, a nice amount. All rooms have an ensuite bathroom, airconditioning, a day bed, and storage space for all your gear and luggage. Other amenities onboard are a decked out camera room, massage area, TV lounge, tenders, free nitrox, and a dive center with individual storage spaces.
Check for Deals and Reviews on Liveaboard.com →
There are also several decks available for lounging and outdoor dining arrangements. You can take dive courses and nitrox courses while you are on your trip which is great and since most itineraries are longer than 10 days there is no better way to do your course. Or, take a break from diving and take out one of the kayaks or stand up paddleboards that are free to use.
The team behind the Coralia liveaboard trips are renowned for offering exceptional service standards and a wealth of knowledge of the Indonesian archipelago all in all they offer an unforgettable experience whilst conserving the surrounding environment in mind. What better place in the world to see the coral, reefs, and sharks whilst enjoying sailing amongst these wonderful islands.
What We Liked
Includes other watersport activities
Good camera room
Lots of facilities for divers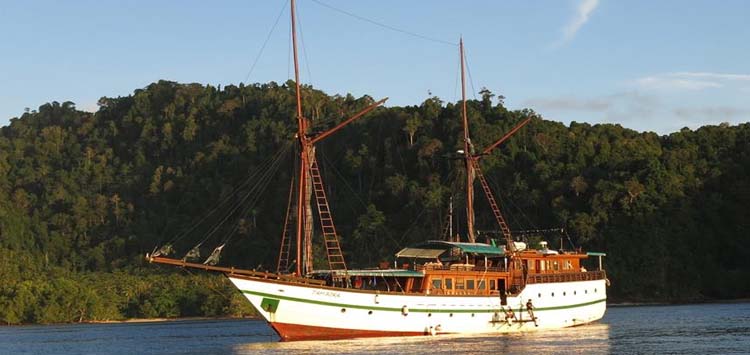 This is one of the Raja Ampat liveaboards that offer luxury year round diving cruises in the Indonesian Archipelago region. Experience a unique Raja Ampat dive excursion with the custom-built Tambora one of the boats that were designed specifically with divers in mind.
There are plenty of facilities for divers such as a dive station, rinse tanks, camera workspaces, and personal storage baskets. However, there is also plenty of opportunities to relax with the home cinema setup and three different decks to choose from.
Check for Deals and Reviews on Liveaboard.com →
There are 8 suites on board with the choice between a twin or double room that is comfortable but simple. Each room is longitudinally aligned which gives you a more pleasant sleep at night since you laying in the same direction as the ship's movement and along with other wonderful things we could say this trip serves five freshly prepared meals per day,.
As liveaboards in Raja Ampat are the best way to see the area and get to the dive sites we think this is up there with the best of them. We will point out that although the Tambora is available all year some of the dive sites cannot be reached during the monsoon season which is Mid-June to Mid-Sept so check out what you could miss if you don't go in October to April.
What We Liked
Three lounge decks
Home cinema setup
Includes land excursions
Blue Manta Liveaboard is a steel-hulled ship with 14 air-conditioned double and twin cabins. The crew consists of 22 experienced and professional people, including 3 chefs, who will cater to all your needs and this steel-hulled vessel is designed to withstand all sea conditions that the Raja Ampat oceans might have, especially if you go out of the peak diving season.
This is a great choice especially if you are planning on doing a lot of underwater photography, which we are sure you will because with the reefs, sharks and pygmy seahorses and other marine life how could you not, because there is a camera room, individual camera rinse tanks, and blow-dry stations.
Check for Deals and Reviews on Liveaboard.com →
They keep the dive groups small and ensure you have the time to see what you want and you won't have to be following a crowd of scuba divers all wanting to take the same shot. While scuba diving you will see reef sharks, schools of fish and whale sharks, and, don't forget this is in the coral triangle, all in all, Raja Ampat takes some beating for scuba diving.
This liveaboard Raja Ampat style has included as standard, transfers from the hotel or airport, all-day meals, and snacks, a diving package, and bathroom amenities. Wi-Fi, alcoholic beverages, nitrox, laundry, and dive courses are available but do come at an extra cost. This is a good in-between option, neither super budget nor the high end but because of the amenities, and luxury that it gives during the trips it is ideal for experiencing the brilliant diving adventure the Raja Ampat islands offer.
What We Liked
Includes transport from airport or hotel
Small dive groups
Blow dry stations
Dedicated camera room
The most luxurious option on our list is a new entry, the Alila Purnama. The service and amenities are not far off that of a 5-star hotel, with exquisite spacious cabins, you can enjoy an Alila massage from the on-board spa therapist and relax in the wonderful lounge areas.
This traditional Indonesian wood-style called the Phinisi is made in the most deluxe form, with sunbeds and umbrellas on the grand deck for taking in the breath-taking scenery, along with a spacious lounge and bar area. You can dine in style in either the spacious indoor dining space or on the outdoor deck.
Check for Deals and Reviews on Liveaboard.com →
There are only 5 luxury cabins onboard which means that you will travel with a maximum of 10 guests and each is en-suite and has individually controlled air conditioning. The Alila Purnama is also available for charter so if you wish to make it a private trip to an island of Raja Ampat then you can.
This is the most expansive package with nitrox, laundry service, park fees, water sports equipment, and transportation all included as standard. The only thing that you might want to pay extra for is dive courses and alcoholic drinks, jet skiing and attending the spa. So if your budget allows this is the best luxurious Raja Ampat liveaboard dive trip on our list.
What We Liked
The standard package includes many services
Small groups
Nitrox included
Fully licensed PADI dive center on board
The Ratu Laut is your best choice for a low budget trip or as low budget as you can get in the islands. If you are interested in marine life in this region you will certainly not get a better liveaboard than this option.
Book with Ratu Laut and you will be contributing towards research and conservation programs run by an NGO, Barefoot Conservation. Marine Biologists and Manta Ray Scientists will also be on the trip to collect data and do presentations on the research being conducted on manta rays
Check for Deals and Reviews on Liveaboard.com →
This is also a great option if you are looking to go with a small group of friends or a solo traveler that likes to meet new people because there are dorm rooms available. There are 2 4-bed dorms and 2 twin bedrooms which still keeps the total number of guests to a comfortable maximum of 12. That said, it is a cozy liveaboard with plenty of amenities includes that will keep you comfortable and having fun out on the water.
The itinerary is heavily orientated for divers, expect to do up to 4 dives per day, including a sunset or night dive. There are a separate rinse tank and charging station for underwater photographers although the camera station is not as advanced as some of the other options on this list of Raja Ampat liveaboards.
What We Liked
Very Affordable
Dorm rooms available
Contributes to a good cause
Biologists and scientists on board
For a more traditional experience, book a trip on the Calico Jack, a hand-made sailboat recently built from the finest Indonesian tropical hardwood. The interior combines the Indonesian furniture design that has a lot of wood carvings but with all the modern comforts.
This boat is friendly to both divers and snorkelers but, sadly, there are no dive courses available onboard, but with plenty of other water activities that are included in the package such as kayaking and stand up paddleboards, you will never be at a loss for something to do.
Check for Deals and Reviews on Liveaboard.com →
The full board meal plan and snacks that are included are provided by the Calico Jack chefs, with their specialty being Asian fusion dishes also included is free access to Wi-Fi, individual rinse tanks for cameras, snorkel gear, and laundry services. Land excursions and beach BBQs are also available and included in the package.
This is a good option for small groups since there are only 4 luxury ensuite, air-conditioned cabins on board, all double or twin beds with a total capacity of 8 guests. If you prefer traveling with people that you know then this might be a great opportunity for a family vacation or bachelorette trip to Raja Ampat.
What We Liked
Low number of guests
Free Wi-Fi
Laundry service included
Kayaks and SUPs available
7. Best Food & Dining Options: Damai II
Damai means peace in Indonesian and that is exactly what you will experience aboard this traditional Raja Ampat liveaboard diving adventure. It has 7 luxury cabins and the staterooms have queen or king-sized beds, along with the single, and twin rooms.
This is a great option for underwater photographers thanks to its dedicated camera room with individual rinse tanks and work stations. The dive groups are also small and you can ask for a private dive guide at an extra charge.
Check for Deals and Reviews on Liveaboard.com →
The full board meal plan offers fantastic cuisine and is full of variety with the kitchen crew having a lot of experience in vegetarian food and gourmet Western dishes along with special dietary needs that can be catered for. This fully inclusive package also offers airport and hotel transfers, soft drinks, tea and coffee, and wine with dinner.
With the experienced and dedicated crew and a divemaster to diver ratio of 4 to 1, you can rest assured that you will be well looked after on this wonderful Raja Ampat liveaboard.
What We Liked
Luxury rooms
Spa therapy available
Small dive groups
Includes alcoholic drinks with meals
Pearl of Papua is a liveaboard that gives fantastic value diving holidays all year in Raja Ampat and gives you a really homey feeling with cozy spaces and rustic furniture.
All the cabins are ensuite and have individually controlled climate control, there are 4 different types, bunk beds, twin beds, deluxe double, and a master cabin. This has been custom designed for diving expeditions and this liveaboard features, rinse tanks, a dedicated camera table, and charging station, along with kitting-up stations for each diver.
Check for Deals and Reviews on Liveaboard.com →
The Pearl of Papua has a 12 member crew that are all highly knowledgeable and intimately familiar with Raja Ampat so this option gives you an almost 1 to 1 ratio of guests to the crew and you can be sure that all your needs are taken care of. There is a professional chef on board offering fresh ingredients for both Indonesian and Western-style meals and snacks.
At a lower price point, this liveaboard gives you all that you want and more for your diving vacation in Raja Ampat, Indonesia.
What We Liked
Very affordable
Ensuite with air conditioning
Daily housekeeping
Dedicated dive crew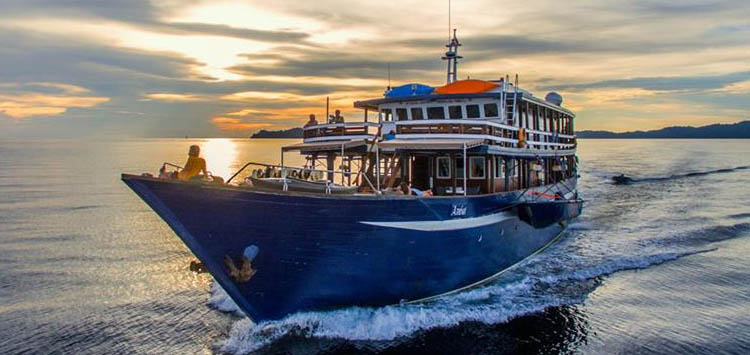 If a great guided Raja Ampat liveaboard experience is what you are after, book your trip with Ambai which has an experienced crew of 16 it features a large dive deck, three dive tenders, Nitrox, and 4 dive guides, that include a naturalist guide, dive guide, and snorkeling guide.
There is also time for fun activities like a beach barbecue, SUPs, water skiing, and land excursions to the island. The interior has a simple rustic feel but with all the amenities on the dive deck and dedicated camera room. Nitrox is included in the package but if you are not familiar with nitrox dives then they do offer a course that you can do while you are on board.
There are 8 Delux cabins available with a maximum capacity of 16 guests. The cabins all feature an ensuite bathroom and individually controlled airconditioning along with free wi-fi. Ambai offers 8-15 night cruises in the Indonesian archipelago that gives you greater value than what you are actually paying for and t ideal way to dive Raja Ampat and visit the island.
What We Liked
Affordable
Extra watersport activities
Free nitrox
All-inclusive meals and snacks
10. Yacht Type Ship: Gaia Love
The most modern ship on this list is Gaia Love which looks more like a yacht compared to the phinisi sailing boats. Spread out over 4 decks you will find a contemporary and modern design. Social areas include an indoor salon and dining room, outdoor lounge and dining area, along with a spacious sun-deck and al-fresco bar.
This option gives you an extensive dive deck with 11 rinse tanks for rinsing off your gear and separate rinse tanks for camera gear. The large space diving deck can comfortably fit up to 28 people and there are skiffs available to take smaller groups to further dive drop-off sites and land excursions on the island.
Check for Deals and Reviews on Liveaboard.com →
All the en-suite cabins are spacious and feature individually controlled air conditioning and have ample storage space for all your needs. The upper deck cabins have beautiful picture windows along with balconies, ideal comfort for relaxing after a long day of diving the corals of Raja Ampat.
Included in the standard package are all the meals, soft drinks, wine with dinner, land excursions to the island, a snorkeling guide, and extra watersport activities. Not included is a connection to the onboard Wi-Fi, nitrox, laundry, and dive courses.
What We Liked
Modern design
Large dive deck
Skiffs
Spacious en-suite cabins
Scuba Diving in Raja Ampat
We hope that we have helped you in your search for liveaboards in Raja Ampat, it is worth bearing in mind that although the Raja Ampat region is open to liveaboards all year round it does have the monsoon season that is between Mid-June and Mid September. The best time to enjoy scuba diving in Raja Ampat season is from October to May when there is less rain and calmer seas.
Although the Raja Ampat liveaboard budget is in the higher price range it is well worth the money for the experience that you will have as scuba diving in Raja Ampat is one of the best experiences that offer a real diversity of marine life, with hard and soft corals reefs as it is situated in the heart of Indo-Pacific's Coral Triangle. You can get to see the pygmy seahorses, if you are lucky, along with plenty of other macro sea creatures as well as reef sharks, schools of fish and other larger marine life such as manta rays.
Here's a recap of the top 3 best selling liveaboard vessels for diving in Raja Ampat;
OUR #1 PICK
Coralia – Liveaboard
Watersport Activities
Facilities for Divers
Camera Room
Dive & Nitrox Courses
Check Amazon →
Read our review
STEEL HULLED SHIP
Blue Manta Liveaboard
Small Dive Groups
Blow Dry Stations
Underwater Photography
Double & Twin Cabins
Check Amazon →
Read our review
MOST LUXURIOUS
Alila Purnama
Nitrox Included
PADI Dive Center
5 Luxury Cabins
Spa Therapy Available
Check Amazon →
Read our review
The Raja Ampat Islands are made up of four main islands, Misool, Salawati, Batanta, Waigeo. In fact, Raja Ampat means 'Four Kings' and this refers to these larger islands, but with one other small island and 1500 islands and cays, this is what forms the entire Raja Ampat archipelago. It is an extremely remote area of the world and will take some intense travel arrangements to get to, but it will all be worthwhile once you arrive.
Because of the place of the dive sites being so remote one of the Raja Ampat liveaboards that we have picked out for you above is the perfect way to ensure you can travel the full length of Raja Ampat in one go and enjoy the marine life, corals, sharks and beautiful scenery on the way to the best dive sites. But do remember the best time to do this is in the main diving season as the sea will be too rough during the monsoons.
Diving in Raja Ampat islands is one of the best and offers a large variety of marine life from sharks, whale sharks, and manta rays, the boats can be simple or luxurious, the choice is yours and some of the liveaboards will offer you the chance to do a little night diving as well, and that truly is a wonderful experience.