Fed up of the cold wintery commute to work? Wrapped head to toe in thick garments to keep that icy cold wind from hurting your face? Aren't all of us in these cold places we call home!? I know exactly how you feel.
If you're like me, and when the winter has well and truly hit, you might be looking for a sunny break. More specifically, a sunny scuba break. Don't let traveling with your dive gear put you off, it's a lot easier than you think! Here's some winter inspiration for your next diving vacation.
7 Best Winter Dive Destinations
If you've ever planned a scuba dive vacation, you'll know that there are a few things you need to think about before getting on the plane. Knowing what you need to pack for a dive trip is one of them, but you'll also need to check the weather conditions of your dive destination.
If you're looking to get away this winter and find an awesome dive location, get ready to pack your dive bag. I've put together a list of the best places to scuba dive during the winter. You're so welcome.
1. The Maltese Islands
Located just South of Italy's heel and over to the West of the Mediterranean's heart – lies an enchanting archipelago comprising of Malta, Comino and Gozo along with the smaller, uninhabited islands of Cominotto, Filfla, and St.Paul. Malta offers some of the best scuba diving spots in Europe.
The clear blue Mediterranean sea offers unique diving experiences with a variety of dives available around the island. Some of the best locations for scuba diving include reefs, caves and even some wrecks to explore.
2. The Canary Islands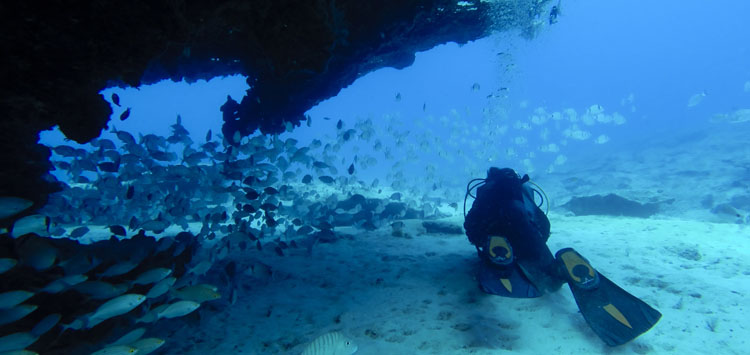 With year-round sun, warmth and clear waters it is no wonder why divers are drawn to the Canary Islands. Also known as The Fortunate Islands, due to the subtropical climate and beautiful sandy beaches the islands of this Spanish archipelago lie at the eastern edge of the Atlantic Ocean, just off the northwest coast of Africa.
Although the islands don't offer colors as vivid as those found in tropical destinations, it offers more prolific with sharks, rays, turtles and wrecks and plenty of brightly colored fish. Divers are given a choice of some of the best places to scuba dive around the island throughout the year.
3. The Maldives
Known as a very popular destination for its ocean viewed huts and beautiful surroundings, the Maldives is undoubtedly one of the best dive destinations in the world.
During the winter months, Manta Point, located in South Ari Atoll is the best place to head to see Manta Ray. This spot is famous for its cleaning station for Mantas between the months of January to April. This is when they come up from the depths to free themselves of unwanted parasites.
4. Mozambique
At the mention of this destination to any scuba diver, they would automatically associate it with megafauna. All year round, whale sharks and manta rays prowl around the plankton-rich water, meanwhile humpback whales pass on by.
Mozambique is also home to the largest Marine Protected Area on the African continent. This helps protect its rich coral reefs and mangrove forests. Making it one of the top dive sites in the world and taking a place of most scuba diver's bucket lists.
5. Indonesia
The winter months are the perfect time of the year to take a trip and dive in Raja Ampat. Not only this, but Raja Ampat also offers some of the best places to scuba dive in the world. One of the popular dives is called Blue Magic.
The Blue Magic dive offers an abundance of marine life in one dive. From the pygmy seahorse to the giant manta ray. It is known to be an unbeatable dive. Some of the main attractions here include green turtles, black tips, and grey reef sharks.
6. Oman
Over the years Oman has become an increasingly popular tourist destination. Full of vast deserts and rich history it isn't a wonder as to why. Up until the 1970s, the country was completely closed to visitors. Now with open doors, scuba divers take advantage of the richer waters as the coastline is relatively untouched.
Within the region of Musandam, lies remote land full of nutrient-rich waters. It is these waters that make it one of the best places for scuba diving as it offers a vast amount of diversity and abundance of marine life. The best time for scuba diving in Oman is from October to May. These are the months where the sea is the calmest and the water warms up. Perhaps it's time to take a trip here before the secret gets out to everyone else!
7. Jordan
Along with its breathtaking views and plenty of things on offer to do in Jordan, it also offers one of the most spectacular coral reefs in the world, making this the main attraction. The desert land of Jordan features red sands, towering cliffs, plains of volcanic basalt and hills covered in olive trees.
Most importantly, for us divers, Jordan boasts plenty of scuba dive destinations to choose from. Many of which are located within Aqaba Marine Park. Some of these scuba dive destinations are accessible from shore. Scuba divers here enjoy a wide variety of hard and soft corals along with a myriad of reef fish, making it some of the best diving in the world.
And there you have it. Some beautiful dive locations and perfect winter escapes. Have you been somewhere during the cold winter months? Let us know by leaving a comment below and share your best dive locations in the world during the winter! As always, happy diving!