So you've spent months planning for your next scuba diving vacation, you know exactly what to pack for a dive holiday and you've serviced all of your scuba diving gear. You're ready to go, dive and relax.
But if you are flying with scuba gear, have you checked the requirements with your airline or travel agent for travel scuba gear? Don't get your dive trip off to a bad start by arriving at the airport and having to pay extra to travel with your scuba gear luggage.  So if you've picked your winter dive destination or your summer getaway here's what you need to know We've put together this, How to Travel with Scuba Gear, guide about traveling with scuba gear the best way.
Traveling With Scuba Gear – Everything You Need To Know
We've looked at some of the ways you can make it easier to travel, particularly on airlines, when you are taking a diving vacation. Including the best dive bags and what you should just leave behind.
In the following post, we wanted to help you plan your best dive vacation and discuss the subject of scuba gear travel bags in greater detail to help you to avoid those expensive charges by airlines for having too much luggage.
Research Airlines and Their Baggage Allowance Prices
It's important to note that airlines all have different luggage weights and limits, so you need to research them thoroughly to find the one that suits your needs best.
In general, low cost and budget airlines are more likely to have stricter rules than the more exclusive and luxury airlines. 
Charter flights tend to be the strictest, so if your diving trip is part of a package-style holiday, you should read the fine print about any restrictions there may be on luggage.
That's the case even if you have flown with them before because the restrictions tend to be different for ordinary flights and charter flights.
Furthermore, you need to anticipate that many airlines will have a set amount of luggage that they allow for free, with a charge being given for anything over that amount. While others charge any luggage that is checked in. Again, it can be different from airline to airline.
Carefully Think About What You Are going to Take
It's that same old dilemma, but one that's important to think carefully about – what are you going to take with you and what are you going to leave at home?
If you can't bear to leave anything behind, consider the type of diving you will be doing and where. If you're on a liveaboard and won't be doing much else than diving (lucky you!) then take it all. There are many scuba dive bags and scuba gear travel bags available on the market today where you can easily store all of your kit and more.
If you're really trying to save as much money as possible, you should look to leave many of the bulkier items at home, particularly if you are traveling with a diving tour operator. You'll usually be able to hire a BCD, fins, wetsuit and other items, but best to check first.
Whereas you should always, at the very least, take your own mask (so you know it fits properly), regulator and dive computer (you know how it works so you'll have less time to waste under the water trying to figure a new one out).
Think About Your Baggage
Many people like the convenience of a large suitcase with trolley wheels as it doesn't need to be carried everywhere. However, are you going to be doing much carrying, really?
There are trolleys already there that you can use for your scuba gear suitcase and once you've checked them in, they are no longer your issue until you arrive. Therefore, it could be wise to invest in a lighter, more manageable duffel bag instead.
For your scuba gear carry on bag, you should choose a cabin-suitable trolley or even a backpack style bag. Many options of scuba bags offer both of these features making it easier to travel with your dive gear.
Pro Tip – Make sure you pack it fully to meet the airline's weight limit. It would be ridiculous paying for excess weight and not using it.
You could be a little savvy and ever-so-slightly overpack your carry-on bag, in order to reduce the amount in the checked luggage that's going into the hold.
But avoid packing it onto a trolley, as airline staff knows the trolleys add weight to bags and will be more inclined to check the weight of your carry-on bag.
The way you carry the bag may help as well, so make it seem like it doesn't weigh too heavy. Obviously, you should keep the fragile and heavier items in your carry-on as it will avoid anything happening to them when baggage handlers are manhandling them and throwing them around.
Are you looking for a scuba gear bag for your next trip? Here are our top 3 Best Dive Bags that our customers pick;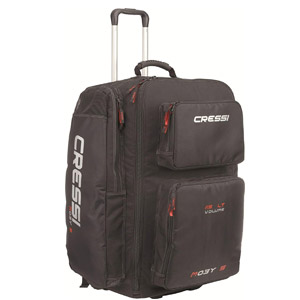 BEST ROLLER
Cressi Strong Large Roller Luggage Bag
Large Trolley Bag
Opens On Three Sides
Adjustable Padded Straps
Reinforced Pull Handle
Check Amazon →
Read our review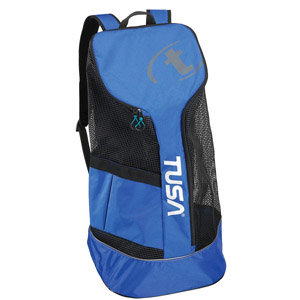 BEST BACKPACK
TUSA BA-0103 Mesh Dive Bag Backpack
3 Color Options
Padded Shoulder Straps
Great For Day Trips
Large Outer Pocket
Check Amazon →
Read our review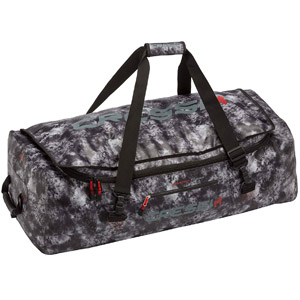 BEST DUFFLE
Cressi Gorilla Pro XL Duffle Dive Bag
135 Liters Storage
Durable Straps
Large & Roomy Bag
Cool Camo Design
Check Amazon →
Read our review
Handling Security Checks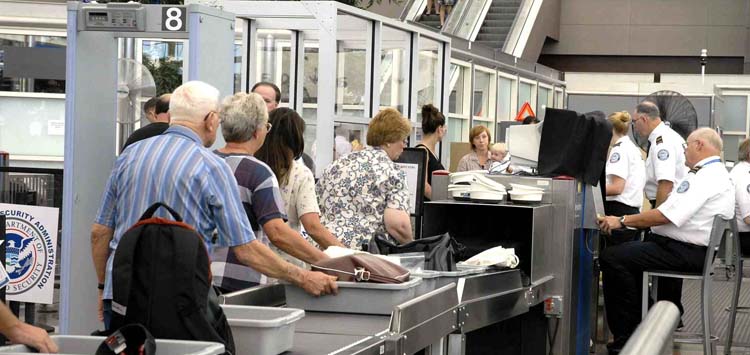 When you pack up your stuff into your scuba gear travel bag, you need to use a little foresight. Make sure that anything you need during your flights and other parts of your journey is at the top of your bag and easy to reach, with anything you don't need to the bottom. So, items such as any liquids, travel documents and your passport, phone or other device and books should stay at the top.
As you'll have to have your bags checked, make sure you follow current TSA rules about what kinds of items are permitted in your luggage, both carry-on and checked-in bags. If not, you could face some serious civil penalties if any prohibited items are found in your bags.
Are you planning to travel with a dive knife? Check out this blog for tips on how to travel with a dive knife on an airline.
Although the whole business of packing can be something of a headache, with research and planning, it's a lot easier than you may think if you have the best travel scuba gear and luggage in hand. What's more, if you have packed well, and purchased the best scuba luggage for your needs, followed the rules of travel, you'll be rewarded for all the hard work before you reach the airport, when your check-in and board the plane with no issues and are fully ready to enjoy that great diving trip!