Scuba diving and snorkeling have a couple of things in common – underwater exploration and fun! Now, how you explore the big blue and the level of exploration differs for these two methods. It all comes down to a matter of opinion on which one is better?
For the non-Scuba diver and just an alternative to Scuba Diving, snorkeling is the way forward. But which kind of snorkel should you buy? There are many to choose from; dry snorkels, semi-dry snorkels, traditional snorkels and now even full face snorkel masks. 
As you may well know, there is a big divide between scuba divers as to whether or not you need a snorkel when you are scuba diving, that doesn't mean that they are an important piece of diving gear. But leaving scuba diving aside in this post, we want to tell you about the new full face snorkel mask on the market. 
Full Face Snorkel Mask Review
Knowing exactly how a snorkel works is a good place to start if you're looking to purchase a new one. With so many different types of snorkels currently on the market, it can be difficult for you to find the best one for your snorkel style.
But before you do just that, we want to talk to you about the new kid on the block. The full face snorkel mask, Tribord Easybreath from Subea. We have heard this referred to as the Tribold mask, but they are one of the same, just an easy error that some make.
It's not like your traditional snorkel, but it will open up the underwater world of your next best snorkeling destination.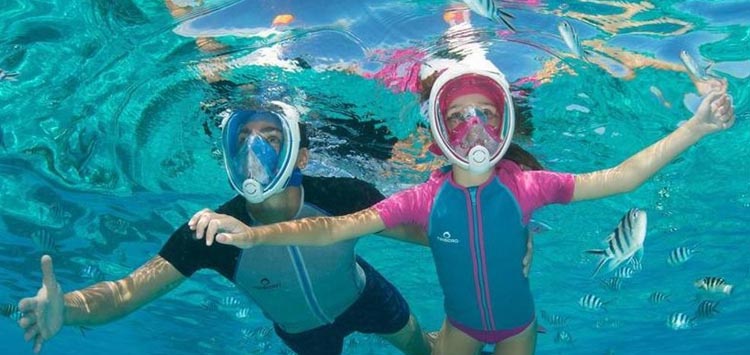 Tribord Easybreath Full Face Snorkel Reviews
Thanks to the panoramic field of vision, the possibility of breathing through your nose and a dry top system, it has never been easier to discover the underwater world with a full face snorkel. Many people have quoted that once you try a full face snorkel, you will never go back to a regular mask and mouthpiece!
With design improvements coming each year, full face snorkel designs just keep getting better and better. Nowadays, there are quite a few different types of full face snorkels available on the market which vary in price, accessories, and quality of the products.
As a scuba diver myself, my exploration of the underwater world started with snorkeling. That's why I couldn't wait to try out this heavily reviewed full face mask, and share my experience with you!
Excellent for Surface Snorkeling & Enhanced Air Channels
Our Review Score
The Subea Tribord Easybreath (2018 Version) is a full face snorkel mask with all the features of the previous versions but better developed. This Tribord snorkel full face option has enhanced air channels for an even more natural experience, an improved secure lock to keep the snorkel firmly attached and a hypoallergenic silicone skirt that seals the mask to your face more comfortably. It also features a GoPro mount to help you capture some awesome shots underwater.
This snorkel is slightly more expensive than the last model but it's worth the extra pennies and what's more, is that it comes in all different sizes. Perfect for snorkelers of all levels and an outstanding unobstructed 180° field of vision. The Tribord easybreath sizing ensures that all sizes and ages can enjoy the experiences that snorkeling gives.
Check Latest Deals & Offers From Amazon →
(don't worry, button opens a new tab)
Affordable & High Quality
Our Review Score
The Subea Tribord (2017 Version) is slightly short of half a star due to its newer version which has been brought out this year (2018). This boasts all of the features, it has the unobstructed 180° field of vision, the dry top system and also the silicone skirt for that extra comfortable seal around the face, the only downside to this one is that Subea decided to discontinue two sizes, X/S and L/XL because they feel that the S/M and M/L sizes cover around 90% of the world's faces. Having said this, the optimization has helped cut the costs.
If you are not looking for a full face mask with a camera mount and are within 90% of faces that come in S/M or M/L you can save a couple of pennies and pick last year's Easybreath version.
Check Latest Deals & Offers From Amazon →
(don't worry, button opens a new tab)
Overview: Tribord Easybreath Snorkeling Mask
The Subea Tribord is a full face snorkel mask designed for surface snorkeling. Decathlon designed the Easybreath mask back in 2013 and continue to improve their invention year on year. The Easybreath is the first-ever fully- integrated snorkeling mask that offers its users the possibility of breathing easily underwater through the nose and mouth – Just as they do on dry land.
Due to its large size, this innovative design offers an amazing, unobstructed 180° field of vision. Its anti-fogging mechanism is designed by a double air-flow system which is identical to systems used in domestic extraction fans.
To ensure that the water doesn't enter via the snorkel, the easy breath snorkel is equipped with a dry top system – a mechanism that plugs the top of the snorkel when immersed underwater. For safety and visibility when in the water, the snorkel is highly visible in order to avoid any collisions on the surface.

Pros of the Tribord Easybreath Full Face Snorkeling Mask
I loved these Subea Tribord snorkel masks (2018). There are so many different things about it I loved.
It is so easy to breathe! With no snorkel piece in your mouth, breathing is so easy. Due to the mask's design, it makes it so easy and natural to simply breathe through your nose and mouth.
A panoramic field of vision is unequaled. Boasting a 180° field of vision, this underwater view is outstanding. The lens is made from shatterproof polycarbonate making it great for visibility. 
Dry Top System means no leaks! With this clever design, the float system stops water from entering the snorkel. Which is great in choppy water. If any water does manage to get into the mask, it has been designed so that the valve located at the chin area drains as soon as you lift it above the water level.
Anti-fogging mask. One of the big frustrations about snorkeling is having to stop constantly to clear your regular type of fog. Well, with this that never happens! The Subea Easybreath snorkeling mask has a double chamber airflow system that allows all fogging to take place within the lower part, which is separate from the viewing area, meaning you won't miss a thing!
No jaw Fatigue. For anyone who suffers from jaw fatigue, will understand the feeling of holding down a mouthpiece for an hour or so. With a full face snorkel mask, this isn't an issue. With no mouthpiece, there is no jaw fatigue, even after hours of snorkeling!
Compactable mask. Another great feature of this is that the snorkel piece is detachable from the mask, making it much easier to transport in the mesh bag it comes in.
Noticeable within the water. It's very important to be aware of your surroundings when snorkeling and also for others to be aware of you. A great advantage of the Tribord face over most of its competitors is that it has a bright orange fluorescent tip on the end of the snorkel. This is in order to help other water users see when snorkelers are in the water.
Cons of the Tribord Easybreath Full Face Snorkel Mask
Bears and facial hair can cause leaks! Beards create tiny spaces that will allow water to get through. Subea recommends that men shave their beards in order to create a better seal and prevent leakages.
Full face masks are not designed for free diving. Full face types are designed for surface snorkeling only.
Older versions of these Tribord Masks come in limited sizes. The Subea snorkel 2017 version masks available online don't have the full range of sizes available in comparison to the Tribord masks
Snorkel masks are designed for relatively calm water. Although these types of masks have a dry top system, they are designed for leisurely surface snorkeling in relatively calm water.
Difference between the Old Tribord Masks and the New Version?
As I mentioned earlier, each year full face masks undergo new developments and just keep getting better. The new version of the Easybreath comes with a hypoallergenic silicone face skirt. The air valves have been improved on the 2018 model, providing it with better airflow.
The 2018 model also boasts an improved secure lock snorkel, complete with the dry freak O-ring. The O-ring has a 6-year life cycle and the snorkel will never prematurely release.
You also get a spare ring included, just in case the original ring gets damaged or lost. Another great feature of the new  Easybreath 2018 version is that it includes a GoPro mount area.
What colors do they Come in?
The  Easybreath masks come in four different base colors. These include; Orange, Blue, Pink, and Turquoise. On some online stores, Turquoise may be listed as Atoll or Lagoon.
Limited Edition Easybreath Snorkeling Masks
Back in mid-2017, Tribord Subea released a limited edition range of their full face masks. This limited edition series, star all-over pattern designs inspired by the way that the light plays on the seabeds, different shoals of fish, coral palettes and the movement of underwater light.
As per most limited edition products, these masks do cost a little more than the traditional full face masks from Tribord Subea. But I have to say, they really do stand out and look amazing in the water!
FAQs about the Easybreath Full Face Snorkel Mask
Where can I buy a Full Face Snorkeling Mask?
Many online stores provide different options for full face masks.  A lot of the masks that are available seem to be knock-off or cheaper versions from China.
When selecting a full face snorkel mask, try to go for one with a flat-screen. This is because anything with a rounded screen will provide distorted vision underwater, which can sometimes make people feel dizzy.
One of the biggest issues with many of the cheaper versions of the masks is that they are made of cheap plastic and are made of low-quality silicone.
In many cases, the snorkel piece can be difficult to remove once it has been attached, which could cause cracking within the mask. There is also very little flexibility within the silicone skirt which can cause discomfort and loosen the seal around the face.
What Size Mask should I Buy?
The Easybreath 2018 version comes in four different sizes. We would recommend that children over the age of 10, women and teenagers should opt for the S/M size, and men should opt for the M/L size.
In order to choose the right size in store, tighten it so that it fits against your face. Make sure there is no gap between your chin and the bottom of the mask. You can find more details on choosing the right size mask here.
Why are there only Two Sizes of the 2017 Version?
Because the S/M and M/L sizes cover around 90% of face sizes for people over the age of 10, the brand has decided to discontinue sizes X/S and L/XL. Due to this optimization, they were also able to reduce the price of the Easybreath.
Can you Dive Deep with this Mask?
The Easybreath mask is designed for surface snorkeling, meaning it should not be used for deep diving. There is a much greater volume of air contained within the mask than the traditional masks.
From 1 meter deep, the pressure of the mask will become uncomfortable. When freediving or scuba diving, it is important to equalize the pressure afterward. With the Easybreath full face snorkel, it is not possible to equalize as you have no access to your nose.
How does the Dry Top System Stop Water from Entering the Easybreath Mask?
The Dry Top System was developed to stop water getting into the snorkel during chopping water, small waves when on the surface and even when the user leans forward to look at the seabed.
Inside of the Dry Top System, there is a float within the snorkel which rises each time you dive, blocking the tube. It's important to remember, after diving, blow out when returning to the surface. This will make sure that the float descends.
How does the Anti-Fogging Concept Work?
The exclusive anti-fogging concept works best in waters over 18°C. The concept is based on the fact that fresh air breathed in, is then projected onto the front window before reaching the mouth or the nose.
The moist air that you breathe out is then expelled through the side connections which are made of plastic and silicone. These materials channel the air in the snorkel, making the air constantly renewed. This is actually the same principle as the ventilation of your car windscreen.
Should I take any Precautions with my Easybreath Full Face Mask?
Sand can easily scratch the window so it's important to avoid letting your Easybreath mask come into contact with it. Sand can also clog up the float valve inside of the snorkel, which you may then need to use a small object to dislodge. If your mask does come into contact with sand, rinse it vigorously.
Can I use the Easybreath Mask if I have a beard?
This is actually a common question. And unfortunately for you, beards can be responsible for letting in significant amounts of water. Subea recommends that men shave their beards before using the Easybreath mask, this is due to the hairs breaking the seal between the silicone skirt of the mask and your skin.
What is the SUBEA brand?
Tribord Diving, now known as Subea is the Decathlon brand which is dedicated to underwater sports such as snorkeling, spearfishing, free diving, and scuba diving. For further information on the brand, please visit their website here: www.subea.com
Find all the FAQs about the Easybreath® snorkeling mask right here.
Check Latest Deals & Offers From Amazon →
(don't worry, button opens a new tab)