A dive light is a basic element of your scuba diving kit. Whether you have a strobe dive light or a dive light specifically for scuba diving at night, proper maintenance makes sure it doesn't fail when you need it the most.
In the following post, we've put together 5 dive light maintenance tips to help make your flashlight lasts and some tricks on how to take care of your dive light for scuba diving.
5 Dive Flashlight Maintenance Tips & Tricks
Dive light maintenance is quite simple so it is easy to incorporate these tips into your post-dive routine. Do remember to always take care of your dive light to get the most use out of it.
Remember, check both dive lights; your main dive light and your backup dive light (if you have both!). There is no use of carrying a defunct backup dive torch with you, in fact, many divers do. It's a safety precaution that everyone should follow. Having a strobe on your dive light is another feature you should think about when investing in your underwater flashlight.
1. Check If Your Dive Light Works Before the Dive
The number one rule for any dive gear is making sure that it works before you head out for your dive. The last thing you want is being in the middle of a dive and realizing that your dive light does not work.
Check whether the batteries still have charge, whether the lid head is good and that the o-rings are sealed tight. Pay special attention to the o-rings. Make sure that there is no excess grease because this can cause leaking batteries.
2. Avoid Sand & Dirt
Just because a dive light is waterproof, does not mean that it is resistant to sand and dirt. These extremely small particles can still find their way inside the dive light and cause internal damage.
Avoid placing your dive light on the beach or ocean floor so that sand does not sneak in. Also, store it in a clean spot after you have rinsed the dive light post-dive.
You can keep the dive light free of dirt by using a cotton swab to clean between all the small spaces, including the o-ring groove.
Do this after you have rinsed and dried the dive light.
3. Rinse and Dry After Every Dive
Salt is corrosive so when you are rinsing off your BCD after the dive, give your dive light a good rinse in fresh water, as well. This prevents rust and other wear and tear caused by salty ocean water. Rinse the dive light without opening anything to keep the water out. The exterior of a dive light is waterproof, not its interior.
Use a clean towel to immediately dry the dive light after rinsing. Again, do not open the dive light until it is completely dry. Do not leave your dive light to dry in the sun. This damages the o-rings. The heat can also cause the batteries to overheat.
4. Check the O-Rings
The o-rings are a very important spare part in your dive light. Make sure that they are greased enough but not too greasy either. This ensures the best seal in your dive light.
Make sure that the o-rings are clean and that no sand or other dirt is stuck on them. These tiny particles are enough to break the seal.
5. Remove the Batteries When Storing
You may not do this on other devices but it is better to remove the batteries when storing your dive light. Batteries that are unused for a long time are more likely to leak.
After you have rinsed and dried your dive light, open it up to remove the batteries. Store your dive light in a dry place and store the batteries elsewhere.
Bonus tip: Use high-quality batteries. Cheap batteries have a shorter lifespan and are more likely to leak. High-quality batteries are worth the investment since your dive light will last longer, too. Even better, use rechargeable batteries in your dive light. This is the more economical and environmentally friendly option.
Psssttt… If you haven't invested in an underwater flashlight yet, take a look at our 3 most popular dive lights: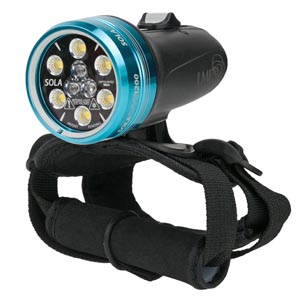 OUR #1 PICK
Light and Motion SOLA Dive Light
1200 Lumens
270mins Run Time
Lightwieight
Perfect for Travel
Check Amazon →
Read our review
PROFESSIONAL
Dive Rite LX20 LED Primary Dive Light
20,000 Lumens
Primary Light Source
Double O-Ring Seal
500 ft Depth
Check Amazon →
Read our review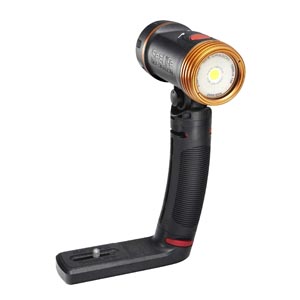 GREAT FOR VIDEO
SeaLife SL672 Sea Dragon Video Dive Light Kit
1500 Lumens
3 Brightness Levels
1 Button Control
80 CRI
Check Amazon →
Read our review
Summary of Looking After Your Dive Flashlight
Wondering whether your specific dive light needs different maintenance? Essentially, taking care of a dive torch and strobe light has the same steps.
In general, take good care of your dive light. If you take a few minutes before and after each dive for dive torch maintenance, it is a piece of dive gear that will last you a long time.
Since most people do not dive throughout the entire year, it is important to take proper care of all your personal dive gear to make sure it holds up for the next dive vacation.