One of the most important pieces of scuba diving gear that you need to invest in is a diving suit. They can also, sometimes, be rather expensive, and if you have only been on a few dives so far, you might want to stick to those rental wetsuits for now.
In the long run, it is best to invest in your own wetsuit. Rather than just buying your own diving suit, you are investing in one that will last you for numerous dives, saving you all that money on those rental premiums.
Another major reason why you should consider investing in your own scuba suit is that you will be able to buy one that meets your own specific needs and fits your body shape. Especially if you are a woman looking for the best wetsuits for women.
If you don't have time to read the full post, here are our 3 most popular scuba diving wetsuit picks:
OUR #1 PICK
Bare 3mm Reactive Fullsuit
Superior Comfort
Elastek Full-Stretch Nylon 2 Neoprene
Made w Celliant Infrared
Velcro Adjustment Collar
Check Amazon →
Read our review
PROFESSIONAL
Hollis Men's Neotek Semi-DrySuit
ThermaSkin Inner Liner
Superstretch Neoprene
Hooded Semidry Suit
G-lock Front Zipper
Check Amazon →
Read our review
ENTRY LEVEL
Mares Reef Scuba Wetsuit Full Suit
Great Value
Mesh Skin Chest Plate
Aquastops Finish
Ideal for Warm Water
Check Amazon →
Read our review
As you may or may not know, how you should fit a wetsuit is extremely important. So, there should be adequate seals around any of the points where water could escape or enter such as the ankles, wrists, and neck. That's why it's important to rule out what type of diving you want to be doing, and maybe check out the differences between a Wetsuit and a Drysuit before making your purchase.
We know though, that the market is full of an extremely large selection of different wetsuits to choose from and if it wasn't overwhelming trying to buy all that new equipment for your new passion. Scuba masks, the best dive computers and now having to choose the best wetsuit for diving out of 100s of different products can be a nightmare.
That's where we come in, here at Ocean Scuba Dive, as we have tried to take a lot of the hard work out of the wetsuit buying process for you. In the following article, we have highlighted what we feel are the top 10 best wetsuits for diving.
10 Best Wetsuits for Diving
Our Review Score
We thought we'd start our list off with this truly awesome suit from Hollis Gears. The NeoTek Semi-DrySuit is 8/7/6mm and is what you need if you find yourself diving in particularly frigid and chilly waters. It features a unique construction that comprises super-stretchy compression neoprene and the exclusive Hollis inner lining known as ThermaSkin.
As no-one really enjoys struggling to get their wetsuit on and off, the fact that this bad boy includes a horizontal front zipper (the cutting-edge G-Lock) and frontal neck bib, that is not a problem.
Mirroring the frontal neck bib are internal dams on the legs and arms and it benefits from all seams being butt-joined with some blind stitching and quadruple layers of glue to reinforce it all It has been finished with the distinctive liquid seam that Hollis Gears uses in many of their garments and both the thighs feature generous pockets that are gusseted and can hold any accessories you need to store on your person while diving.
This has been designed especially for cold water and is very quick drying. It comes in a variety of different sizes, so there should be no trouble finding one that will be right for you.
Check for Latest Offers on Amazon.com →
Our Review Score
Over the years they've been in business, Bare has made a real name for themselves designing and producing high-quality wetsuits and therefore it would not make sense to neglect to mention them in our list or their awesome 3mm Reactive full suit.
As it features the Elastek FullStretch nylon 2 neoprene, it is without a doubt the most comfortable, stretches and warmest Bare wetsuit released by the company to date. Bare ingeniously coupled that fabric with the infrared technology fabric known as Calliant. The Celliant tech is actually where they get the name Reactive from as it converts any body heat that is wasted into infrared energy to offer enhanced insulation. To get this just right, Bare made sure that there were as many as 13 thermo-reactive layers used in the lining. With these minerals woven into the fabric of the wetsuit, Bare has essentially produced a suit that reflects the wearer's body heat back onto them in an intriguing way – which then stimulates better blood circulation and increases your warmth even more.
As it also has seam-free underarms, the comfort you can experience wearing the Reactive is enhanced further and there is no need to worry about pilling or snags any more thanks to the GlideSkin collar system that uses a 36- hook and loop adjustment and booklet-like cover. The S-Lock2 back zipper that measures 21-inches long makes it easy to don and off the suit.
11-inch heavy-duty zippers have also been added to the ankles with support from skin-in cut seals, the same tech used in the suit's wrists.
There's also protection over the knees that are prone to high levels of wear, with 3D ArmorFlex 2.0 pads that are resistant to abrasion, durable and highly flexible. A great all-round diving suit from Bare!
Check for Latest Offers on Amazon.com →
Our Review Score
SEAC are another highly regarded manufacturer of wetsuits and this B-rated wetsuit is a lot warmer than other 5mm suits. It's made using Yamamoto Neoprene, which is developed from natural limestone and incorporates an effective honeycomb design.
As a result, it is firmer than alternatives without losing mobility or flexibility. Thanks to the unique process they use to make the diving suits, these are much better in terms of thermal capabilities but are still relatively lightweight. The warm inner lining consists of a dry fiber with the outer lining being made from 38 rubber layers to create a super-elastic known as ExtraFlex.
The ankles and wrists of the Komodo have YKK zippers and smooth skin seals for getting it on and off quickly and easily. While another YKK zipper provides access from the rear and features a pull-tab leash for convenience and an extra system that forms a barrier against the water to keep heat in and water out.
All the seals are both sewn and blued to ensure they are durable and strong and the elbows and knees have been reinforced using abrasion-resistant PU.
Check for Latest Offers on Amazon.com →
Our Review Score
ScubaPro by name, scuba pro by nature. This is one brand that produces high-quality diving gear and you can be sure to find a favorable review regardless of which ScubaPro product you look at. This particular range, the EverFlex is a favorite among divers and has a new and improved design.
It fits better and offers greater freedom of mobility. The Steamer features an improved pre-formed anatomical fit and really does feel like a 2nd skin when it is on properly. The company only use the most efficient and effective materials, including the X-Foam nylon2 neoprene which was made specially by ScubaPro. To date, it is the only formula for this fabric that fully complies to the PAH testing criteria and offers exceptional protection for divers.
To provide even more protection, the Steamer utilizes a heliosphere lining in the torso and Power Tek anti-abrasion shoulders and seat help too. While the TATEX TPR knee pads protect the high-wear area of your legs.
While the outer seams have been double-blind stitched and glued, the inner seams have single-blind stitching. This makes the whole thing almost completely watertight. For putting it on and taking it off easily, the back zipper comes complete with a robust metal slider and the pull-tab leash and nylon-webbed thumb loop give additional convenience.
ScubaPro have even taken into consideration the use of wrist instruments when diving including dive computers, compasses, and depth gauges and included straps on both arms that can be used with those devices.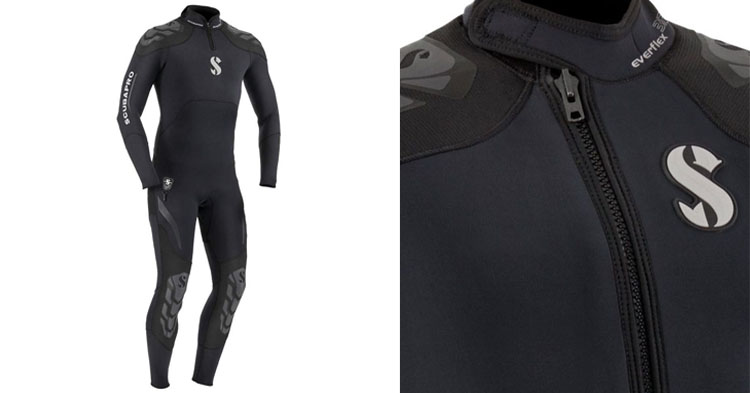 Check for Latest Offers on Amazon.com →
Our Review Score
Fourth Element are particular favorites of surfers, but with the Porteus range of diving suits, the company has made something ideal for both surfers and divers.
This is a new and improved take on the original Porteus and has a better range of seals and lining for improved insulation. It also features the Hexacore lining the provides superior insulation around your core and traps water, to stop there being an exchange.
As it makes use of a honeycomb pattern in its construction, the Proteus is easy to take off and put on.
Check for Latest Offers on Amazon.com →
Our Review Score
As WaterProof were celebrating their 25th anniversary, they wanted to give customers something special and the W3 fullsuit is it.
It features the sharp Scandinavian styling and gender-specific fit they are known for and also features 3D anatomical construction that better matches human movement.
Along with this, there are also relief zippers on the neck and rash guards on the ankles and wrists. Using microcell CR Nylon2 neoprene it offers superior insulation and comfort suitable for both hot and cold temperatures.
Check for Latest Offers on Amazon.com →
Our Review Score
O'Neill wetsuits may be a fave of surfers, but it doesn't mean they can't be used for scuba diving and the Heat 3Q, as one of the brand's high-end suits features. 100% Ultraflex neoprene, re-engineered blackout covert zippers, double-seal neck enclosure, and LSD – Lumbar seamless design.
The super stretch Ultraflex DS neoprene is 150% stretchier and allows you total freedom when you're diving. It also benefits from a lightweight design and comfortable fit.
Check for Latest Offers on Amazon.com →
Our Review Score
SEAC are featured again with the Sense 3mm that consists of a superb anatomical fit and extremely soft neoprene materials to offer enhanced comfort.
Hugging your body like a 2nd layer of skin, the extraflex nylon2 neoprene has a preformed anatomical fit that offers incredible amounts of mobility. With plush lining on the inside, the fit is not only watertight and streamlined but comfortable too.
Check for Latest Offers on Amazon.com →
Our Review Score
Cressi are best-known in the diving community for their high-quality gear and equipment, but they also do a sterling job when it comes to producing effective and comfortable diving suits.
The Shorty will be your best friend if even though you are diving in warmer waters but still want additional warmth. It has an anatomical fit that makes it easier to swim while wearing it and retains a superior amount of warmth at the core.
It is made using the nylon 2 neoprene material and has ultra-stretchy ultra-span legs and arms seals, meaning there is little to no water exchange. Getting in and out of the wetsuit is incredibly easy thanks to the robust YKK frontal zipper.
Check for Latest Offers on Amazon.com →
Our Review Score
NeoSport Premium is a great wetsuit that is durable, comfortable and warm. It provides a nice balance between mobility and warmth and can be used in both colder and warmer waters.
There are flexible knee pads and an adjustable collar that helps you get the fit just right. If you are looking for an easy, no-fuss, wetsuit to wear and to get in and out of easily, then this might be the right diving suit for you.
Check for Latest Offers on Amazon.com →
Scuba Diving Wetsuit Buying Guide
Hopefully, you have found a wetsuit above that will be ideal for your needs and body shape. To give you some further pointers we have put together a handy buying guide for choosing the best wetsuit for diving below. We will look at some of the key aspects of diving suits that you need to consider when investing your money.
The Thickness of your Diving Suit
Wetsuits come in a variety of thicknesses. Most will either be 7mm, 5mm or 3mm, but there are some out there that have been designed specifically with warmer water diving in mind that are only 1mm or 2mm.
Whenever you see a wetsuit with two numbers for the thickness, 3/2mm for instance, the first refers to the torso thickness, while the second refers to the legs and arms.
Although we all have different tolerances of the cold, there is a general rule of thumb, as noted below
2mm – Over 65-degrees F
3mm – Between 70 and 85-degrees F
5mm – Between 60 and 70-degrees F
7mm – Between 50 and 70-degrees F
The Style of your Diving Suit
You will find that there are different styles or wetsuits. Generally, there are three main styles of wetsuits, farmer john, full and shorty.
Farmer John Wetsuit
This is a two-piece wetsuit. One part is the overall, sleeveless top and long legs, while the other part is a jacket. These are perfect for extremely cold water because they offer double levels of insulation around your core. Free divers also appreciate this style because of the greater mobility they offer in the shoulders.
Full Wetsuit
A full adds greater protection for your legs and arms and warmth.
Shorty Wetsuit
Shorty wetsuits usually comprise of shorter sleeves and the legs are cut above the knee line. They are comfortable and easier to put on.
The Material of your Diving Suit
There are also three different kinds of materials that wetsuits are made from, lycra, closed-cell neoprene, and open-cell neoprene
Lyrca
Lycra suits or skins provide a thinner layer of protection and are perfect for diving in comfortably warm water where a wetsuit is not required. Although they do not have thermal insulation, they protect against sharp rocks, corals and jellyfish.
Open-Cell Neoprene
Open-cell suits are probably the highest quality out of the three. They have greater flexibility and are much softer than closed-cell types. Which helps them to hold their form against your body, providing more effective insulation with a full range of motions and a nice feel against your skin.
Closed-Cell Neoprene
Closed-cell is the most common form of a wetsuit. They have a very rubbery and rigid feel. Although they are more durable and cheaper, they are more difficult to slip on and off and aren't as good at insulating the body as open-cell suits.